*If you are here looking for the Back-to-School Celebration giveaways, the links are in my sidebar.
If you need more info about Pour Your Heart Out, see THIS post.
But, really, it's anything that YOU consider pouring your heart out.
Please grab the button for your post and link up! Any linked posts without the button or at least a text link WILL BE DELETED. Not to get all mean and harsh, but some people are abusing the linky, so I've had to go to this rule.
Be sure to check out some of the links- you will find some amazing stories out there.
Again, just a brief reminder that everyone linking is pouring their hearts out and we should all be respectful in our comments. 😉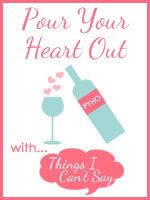 The following post has been sitting in my drafts for over 8 months. I wrote it and then let it sit there because even though it's how I feel, I know that it's a touchy subject. And a personal one for people who have benefited from/could benefit from someone who feels differently than I do. But, I finally decided to go ahead and publish this as part of Pour Your Heart Out, because sometimes, when we pour our hearts out, what comes out is something that not every one will agree with….but it's real and how we feel.
I had this small group of friends, back before I moved…who would ALL be surrogate mothers IF THEY COULD.
None of them can or are medically advised against having any more children.
All either lost babies or had premature babies or both and struggled with infertility.
Me, I'm the one who can get pregnant as soon as Hubs says "Oh, baby!"
Why did they have the experiences they did and I had it easy?
I don't know.
Why did my Bear get seriously ill and other kids are just fine?
I don't know that, either.
I've stopped trying to figure out the whys.
But, one night, over some margaritas, the subject of being a surrogate came up.
And they all agreed that if they were able to or if their doctors wouldn't be totally against it, they would do it.
They would do it because they know the pain of wanting a child and not being able to have one.
They know the pain of losing a child.
And it would be the ultimate gift to someone.
Me, I kept my mouth busy by chugging down my margarita and signaling to our waitress for another one.
Because I think it's a very noble idea, to be a surrogate.
But, none of them can, so I don't know how fair it is to say that they absolutely would do so.
Because each of my children were mine as soon as I found out I was pregnant.
When I could see them on that first ultrasound.
When I felt them moving around in my ever-expanding belly.
Pregnancy drained me. I was always exhausted and sometimes sick.
When I was on pregnancy #2 and #3, I felt like a sucky mom to the kids that I already had. I was too tired to do the things I'd like to with them. Or I physically couldn't do something with them.
As soon as each of my boys was born, I felt that pregnancy was totally worth it. Seeing that little face…instant love.
I think my heart would break if that child who was just born was not headed for my arms, but someone else's.
I know, I know, I've heard that that baby isn't really yours, it's not your egg.
To that I say: I'm not attached to my kids because it's MY egg that they came from.
Maybe an alien implanted me with their eggs while I was sleeping: maybe all three of my boys are aliens- I don't know.
But, I'm bonded with them because I carried them and gave birth to them.
I don't think I'd feel any differently if it was someone else's egg.
I think I would walk around for the rest of my life, feeling like someone out there had MY child. And I'd want him/her back.
I wouldn't be able to be as good of a mom to my kids because I'd forever be mourning their "sibling" who doesn't live with us.
I don't know if I'd be able to recover.
I know that there are many different sides to this and many different ways to look at it.
I think that women who are able to be a surrogate are amazing and I know that they bless the lives of the family whose baby that they carry.
But, as for me, I couldn't do it, I just couldn't.