If you need more info about Pour Your Heart Out, see
THIS
post.
But, really, it's anything that YOU consider pouring your heart out.
Be sure to check out some of the links- you will find some amazing stories out there.
Again, just a brief reminder that everyone linking is pouring their hearts out and we should all be respectful in our comments. 😉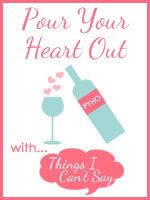 I don't make friends easily. I've mentioned that in passing a few times. Being the incredibly supportive women(mostly women anyway) that you are, you have given me reasons why you don't believe that.
But, like I told you in
this post
, I have had problems making female friends. Mostly, it stems from not ever having that sort of clique mentality, where you like or dislike someone based on what a group thinks- instead, I like who I like and dislike who I dislike- all based on my own reasons. In the land of junior high, that didn't fly. And there are those who have never left that mentality behind.
When I make a friend, I'm fiercely loyal. Because those friends mean the world to me. My friend
Angie
and I have been friends since we were four and I know that I can always count on her and tell her anything. And there's
Supah
whom I've known since our four year-olds were infants that we pushed in strollers around the zoo as we chased our toddlers- who is one of the most big-hearted and real friends you can find.
And then there are the friends that I've made through blogging. Some that I have had a chance to meet, some that I will meet someday, and some that I probably will never meet….but all feel like real friends. After all, I can tell you things here on my blog that I might have a hard time telling someone IRL. Because I'm so open here- can you imagine sitting down beside someone on a bench at the playground and just spilling all this? I would seem like a crazy person. But, in the blogworld, that is what we do. We share ourselves. I especially love the Pour Your Heart Out posts that you link up because it lets me see more of who you are when you share such personal things. And if you hop around and visit the links, you'll make friends, too.
That sharing we do on blogs…it makes me realize that blog friends are real. And mine are so diverse. Some whose experiences I relate to and some whose experiences are incredibly different from mine. Yet, we connect.
And, whether I've ever met them IRL or not, I know that I can count on my friends. We get to know each other by reading each other's blogs. We email, tweet, bbm, facebook, etc, as we get to know each other better. And can cry out for help and have that cry be answered. Maybe it's prayers, support, opinions, suggestions, someone to celebrate a victory with us or even just someone to listen.
We need those connections. Our friends are so important.
And that's why I'm so excited to be a part of a very diverse group of bloggers who are working together for the month of September to celebrate National Women's Friendship Month- which is being expanded this year to be International Women's Friendship Month. The intent of this month is to honor our friendships.
All month long, we will be hosting events, contests, reviews, giveaways, and Twitter parties all in the name of friendship! You can check out
Friends You Love
to meet the other bloggers who are a part of putting this event together. We'll be posting more details of our events there in the coming days. I hope that you will participate in some of our upcoming events and celebrate friendship with us!