If you need more info about Pour Your Heart Out, see
THIS
post.
But, really, it's anything that YOU consider pouring your heart out. There isn't ever a theme or topic that you have to blog about- it's completely a pesonal thing.
Please grab the button for your post and link up!
Be sure to check out some of the links- you will find some amazing stories out there.
Again, just a brief reminder that everyone linking is pouring their hearts out and we should all be respectful in our comments. 😉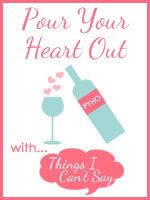 Forgiving.
I can forgive people pretty easily. An apology goes a long way to help with this.
But, I have a hard time forgetting.
Once someone does something to me that really hurts, it's always somewhere in the back of my mind.
I'm not talking about small slights- because those, I won't remember and hey, we're all human and make mistakes.
Those, I write off so easily that I can't even think of an example to tell you about- because, well, they really are forgotten.
I'm talking big hurts.
Intentional.
Or doing something to break my trust.
Or my heart.
I will give someone another chance. Or even mulitple chances.
But, because I can't forget, the relationship changes.
I was going through something that I didn't want anyone to know about and I chose you to confide in? And you were the only one I told….and yet, everyone knows my secret? We can still be friends, but the next time I go to tell you something, I will stop and think about it, remembering what happened last time. And so, our friendship won't be as deep as it was.
If you went around trash-talking me and lying about me to people and then later realized that I'm actually fabulous decided that you were sorry and try to act like it never happened, well, I might even give you the benefit of the doubt- but we'll never be close because I'll always remember what you did. And it will always hurt.
My mom wants to know why weren't aren't close. Maybe it would be because she has decided that I'm not her daughter at different points in my life. You see, I can forgive her and let her back in my life, but I just can't forget. So, no, we'll never be close.
I feel things very deeply.
Hurts stay with me.
Even with a sincere apology, I just can't completely forget.
I've been told that it's not really forgiving, if you can't forget.
But, I see it as self-preservation.