If you need more info about Pour Your Heart Out, see
THIS
post.
But, really, it's anything that YOU consider pouring your heart out.
Be sure to check out some of the links- you will find some amazing stories out there.
Again, just a brief reminder that everyone linking is pouring their hearts out and we should all be respectful in our comments. 😉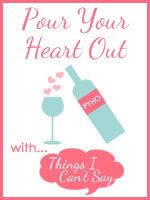 Just days until Christmas.
I feel like I should be happy and jolly and in the spirit.
But, I'm not.
There's nothing really wrong, just a case of the holiday blues, I guess.
Between the kids being home for Christmas break, trying to get everything ready for the holidays, general life stuff, and then a few not-so-pleasant surprises this week, I'm just not feelin' it.
Yesterday's post left me feeling a little drained. It was a part of my story that I thought that maybe I would skip over because it's not the proudest moment in my life. But, it's real and honest, so it's there. Ever write a post that makes you feel drained and like you need a slight break before you write something else? Maybe that should have been my Pour Your Heart Out for this week.
Anyway, I know that I have lots to be thankful for. And I hope to shake this feeling off…
My boys dressed in their Christmas pajamas running down the stairs to open their presents on Christmas morning: a time that is guarenteed to make me smile.
Not to mention all the Christmas cookies. Not much that chocolate won't cure.