If you need more info about Pour Your Heart Out, see
THIS
post.
But, really, it's anything that YOU consider pouring your heart out.
Please grab the button for your post and link up!
Be sure to check out some of the links- you will find some amazing stories out there. And you'll definitely get to know another blogger better by reading what they are pouring out.
Again, just a brief reminder that everyone linking is pouring their hearts out and we should all be respectful in our comments. 😉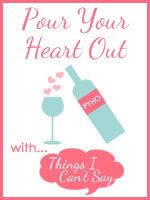 You can find the code for the button on my Memes page- tab is at the top of the page.
So many of you responded to my post-it yesterday about cutting myself a break. So, I'm excited to be starting the 40 day Inner Mean Girl Cleanse. I think it will be good for me. If you would like info on how to participate, too, go HERE. Today's PYHO is a good starting point for me.
When I was four, I had a record called "Tina the Ballerina." Does anyone remember this? It's now out of print…not that I have a record player anyway.
It was the story of a little girl who loved to dance. She would dance everywhere she went. The big climax of the story is the prima ballerina not being able to dance when Tina goes to see the ballet. So, Tina jumps out of her seat, runs up on stage, and dances in her place.
Round and round and round she goes, dancing, dancing on her toes…
I used to get dressed in a pretty dress or a leotard or one of my ballet costumes, stand on my bed- where I could see myself in the big mirror on my dresser- and act out the story along with the record.
I fully believed that I could be a ballerina.
That, in fact, I already WAS one and all it would take for the world to discover me is for my parents to take me to the ballet so that I could jump up on the stage and have the world take notice.
After all, I was graceful and could dance.
And, I was beautiful.
This is what I believed when I was small.
That the world was at my feet, just waiting for me to take action and become a star.
Surely, someone would notice how special I was. How beautiful I was.
And then I'd get to be the star of the show.
Or maybe become a princess or something else equally as fabulous.
I was not meant to be ordinary.
Oh, to go back to being that confident little girl.
Because, as she grew up, she learned that she really wasn't a very good dancer.
And that "clumsy" was a better description of her than "graceful."
And that while she was pretty, there were others who were prettier. And then she had an awkward stage that lasted way too long and made her forget how pretty she used to think she was.
And she learned that no one was going to show up at her door with a princess crown and sweep her away to a magic kingdom.
How sad to have those childhood dreams dashed.
To learn that life isn't that simple or easy.
I look at my boys and wonder what dreams they have. I marvel at their confidence, their belief that anything is possible.
And I think that the grown-up me can learn a lot from the girl I used to be and from my children.
The grown-up me can be allowed to dream and be confident and think that the world is a place of endless possibilities.
Twirling, twirling in a spin, whirling, whirling like the wind…