If you need more info about Pour Your Heart Out, see
THIS
post.
But, really, it's anything that YOU consider pouring your heart out.
There isn't ever a theme or topic that you have to blog about- it's completely a personal thing.
Please grab the button for your post and link up!
Be sure to check out some of the links- you will find some amazing stories out there.
Again, just a brief reminder that everyone linking is pouring their hearts out and we should all be respectful in our comments. 😉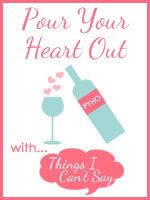 Three years ago, I stared blankly at another mom who was sobbing because she had dropped her child off at kindergarten. I couldn't relate at all because I only had two kids at the time and my oldest didn't even meet the cut-off date to go to preschool. I was thinking OMG, I'd love a break and she's crying? Really, I was a teacher before I had kids. These kids are taken care of it. Get over it.
Two years ago, I sent my oldest off to a preschool for 3 year-olds. He happily went into his class, while I rushed home to put my newborn down for a nap, and breathed a sigh of relief as my two year-old would play.
One year ago, many of my oldest's friends headed off to kindergarten. Only a few months apart, yet they all met the cut-off date and he didn't.
I heard their worries. Were their kids ready? Their BABIES. What about the bus? Or should they drive them? Would they get lost on the way to their classrooms? Would they make friends? Should they buy lunch or pack? What about bathroom breaks? Homework? Would the day be too long for them? What would their teacher be like? What if they aren't really ready?
And I answered with the calm experience of a teacher. Only thinking WOOHOO, I have TWO kids in preschool AT THE SAME TIME this year.
And of course, I also thought, I will not be like that when it's my child's turn to go to school.
Here we are. A few weeks away from my oldest starting kindergarten.
How did that happen? I remember ticking off on my fingers when he was a toddler to figure out what year he would enter kindergarten. 2010 sounded so far away. In the days of sippy cups, I never thought this day would get here. Yet, here it is.
It's my turn to worry.
Should he ride the bus or should I drive him? I thought bus, but I have to drive right past his school to drop off my middle son at preschool anyway. And my little guy on the bus with fifth graders????
Is he ready? I'm not really concerned about this one. He's ready for kindergarten. But, still, he'll be away from me all day long, 5 days a week. Kindergarten is full-day here.
Will he have a good teacher? I'm probably the most worried about this one. He's a very smart little guy, but he doesn't like being talked down to. So, if he's asked a question that he thinks is beneath him, he will purposely answer wrong or smirk and tell you he doesn't know. Try asking him to count for you and he'll act like he doesn't have a clue. But, ask him how how many 4 groups of 3 are and he can tell you. I hope he gets a teacher who sees this and doesn't think that he needs remediation in how to count to three.
Will he make friends? He can be a sweet and funny boy, but not everyone gets him. He comes up with crazy ideas that sometimes other kids just think are weird. He tends to be able to talk to adults easier than kids. And at preschool, he gravitated towards the girls instead of the boys. Not that there's anything wrong with any of this, but I do know that it could make it harder for him to fit in.
I plan on volunteering in his classroom and helping out at the school as much as I can. Not because I'm a neurotic hovering mom, but because I do want to know what is going on in his class. The parents that I had volunteer in my classroom when I was teaching definitely had a better picture of how their child was doing than those who didn't. Plus, I do genuinely want to help his teacher.
But, I know that I can't do everything for him. I can't sit with him on the bus, walk him to class, go through the lunchline with him, guide his pencil with my hand, force his teacher to get him or his classmates to be his friends.
I have to trust that everything that I've taught him over the past 5.5 years will be enough for him to stand on his own.
On his own? But, he's MY BABY….hmmmm, maybe I get why so many moms have tears as they send their children off to kindergarten.