If you need more info about Pour Your Heart Out, see
THIS
post.
But, really, it's anything that YOU consider pouring your heart out.
Be sure to check out some of the links- you will find some amazing stories out there.
Again, just a brief reminder that everyone linking is pouring their hearts out and we should all be respectful in our comments. 😉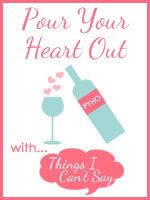 Along with all the other holiday festivities, my Bear had a preschool Christmas program.
He has been singing all of the songs since early November. He loves to sing.
But, the schoolday before his Christmas program, his teacher informed me that he would not sing any of them during their dress rehearsal. And that they had thought about having him sit and watch with us instead of being on stage.
My heart dropped. My Bear, who loves to sing? Not letting him up on the stage?
But, they decided to let him try.
When the day came, he came out with his class and stood up on the bench in the second row and sang and smiled and hit that little triangle along with "The First Noel."
I started to tear up, seeing him doing so well.
The next song, his class had to sit down for and let the younger kids have their turn. But, he ended up still singing "Hot chocolate, hot chocolate" and making all the motions anyway. I had to hide my smile.
But, for the next song that he was supposed to get up and sing…he didn't want to. He sat down and put his head down on the bench. His teacher was behind him, trying to encourage him to get up and sing.
At least he was in the back row where you couldn't really see that he wasn't participating.
But, I hated it for him. I hate that my child who loves to sing didn't want to.
I started to think about the differences between him and other kids his age and if he'd really be able to handle kindergarten next year. He's come so far since his initial diagnosis of lead poisoning, but that doesn't mean that he has caught up with his peers.
But, then I saw another child in his class, standing in the front row. And I realized that that child hadn't sung a word during the entire program. That he just stood there, staring. So, it's not just my child who wasn't singing. And I looked around- there were others.
It's just that when it's your child, you tend to notice more.
His teacher did say that when they went over to practice getting in their spots earlier in the day, Bear had belted out all of the words to all of the songs, solo.
And when it came time for the last song, he did sing.
It all has to be on his time, his choice. And that's something I need to remember.