If you need more info about Pour Your Heart Out, see
THIS
post.
But, really, it's anything that YOU consider pouring your heart out.
There isn't ever a theme or topic that you have to blog about- it's completely a personal thing.
Please grab the button for your post and link up!
Be sure to check out some of the links- you will find some amazing stories out there.
Again, just a brief reminder that everyone linking is pouring their hearts out and we should all be respectful in our comments. 😉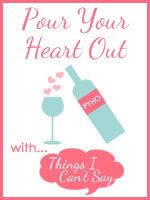 Bloggers- we sit behind our computer screen and feel some freedom from that.
We choose what we want to talk about and what we don't.
It's easier to tell a difficult story on a blog than it is face-to-face sometimes, because we can edit our words, save in a draft, and think about it until we are sure we are telling our story the way that we want. And we won't get interrupted or veer off from what we wanted to say.
We can choose to talk about controversial issues, knowing that we can get our side out without being interrupted. We can be heard. We might have people who don't agree when they comment, but that's okay, too. None of us expects everyone to agree with every word that we write. That would be boring.
We can post stories and pics of our kids, sharing our lives with our readers.
We can rant and rave and be ourselves.
And when we read and comment on someone else's blog: we get to share in their personal experiences, debate issues, share in their lives. Because this blogging thing is about relationships- the blogs we visit- they are written by real people, living their lives, having struggles, having successes, and sharing it with us.
We can even read a post and decide- hey, this isn't for me and just click away without commenting.
Try doing that in real life- can't think of something to say that wouldn't be rude, so you just walk away and you'll still be seen as rude. But, in blog world, it's actually the polite thing to do.
Like I said, we don't have to agree with everything a blogger says. But, we don't have to be hateful about it.
I'm going to clarify this and say NO, I am NOT whining about someone being mean to me, though of course that happens. This is just in general and more of a reaction to things that have happened to blogfriends of mine recently than anything that has happened to me. Clear enough? Not a pity party for Shell. 😉
Seriously, people, you all give me so much support- how whiny would it seem for me to ignore all the positives that I get and make a huge deal out of what negative I get. But, I've always been one to get more riled up when someone does something to a friend than to me. Not to say that I don't feel hurt, maybe even cry a lot little and then go vent about it in an email to a friend.
I just wish that more people would remember that the people who read our blogs or our comments are real. With real feelings. That just because we are on the computer instead of face-to-face, it doesn't mean that we should forget about basic kindness.
To use a blog to make a personal attack about someone and then to defend that by saying "Well, it's my blog and I'm allowed to do that"….well, yes, you are.
Or if you tell people you don't care at all what they think and that they can kiss your ass- you can do that, too.
Or if you visit a blog for the very first time and decide to grab on to one sentence of what that blogger wrote and proceed to write a post tearing that blog to shreds because of that one sentence….
Well, you are free to do that. Because it is your blog.
But, I don't have to read or follow. And I'd bet that others feel the same. And yes, even if you aren't talking about them, but just generally being hateful, it will turn people away. There's enough ugly in this world- I'd rather go read something else. Blogs don't have to be all rainbows and sunshine, but there's no need to spew hatred, either.
No, I'd never go ahead and say go look at this-let me show you examples of what I'm talking about-and send people over out of anger- so please, don't ask me to show you the examples I'm talking about. Because we're all free to write what we want on our blogs, even if what we are writing is complete load of crap- though I do know that there is someone out there writing total lies about a dear friend of mine and well, there is such a thing as libel. So that "write what you want" thing does have limits.

Though, the main reason you'd never see me post a link and tell you to go take a look at something I find awful is mostly because, well, I have the most amazingly loyal readers ever- and all that would do would reward someone with traffic that they don't deserve.
The same thing goes for commenting. We all have our own opinions.
But, there is a way to disagree respectfully. Or, if you are someone who can't do that, then you can click away.
If I'm on another blog, leaving a comment, and I see someone who left a nasty comment, I will know to stay away from that person. You're making a reputation for yourself not only with what you write on your blog, but with how you comment, too.
And a side note to those of you who seem to sniff out blog drama, try to play both sides and try to egg it on: shame on you. You don't have to "take sides" because no one ever wins in these sorts of things, but the blog world is small and bloggers will find out that you are two-faced.
And on our own blogs, we can decide to delete a comment on our blogs because it's from someone who obviously is looking to pick a fight or didn't even read the entire post to learn what the real intent of the post was before they decide to get their panties in a bunch.
Or we can delete because the person is talking total nonsense or total trash.
Or we can delete because someone was rude enough to make a disparaging comment about our children.
Or we can delete because a comment starts causing drama that we don't feel like dealing with- with the comment causing lots of emails and concern and headaches that wouldn't be there if we just deleted the comment.
Because it's our space.
I think of so many of you as my friends. Not just some random person in the computer. Blog friends are real. I care about you. And when something like this happens to you, I can't just ignore it, even though it's not my fight.
These are our blogs, ladies and gentlemen. Express your opinions, be real, share a part of your life with us. But, remember that just as you have feelings and can be hurt by something, so can your readers. And so can the bloggers whose posts you comment on.
Please join me tomorrow(Thursday) night for a twitter chat at 10:30
am
EST. I'm not hosting, but I'm the featured blogger of the chat and came up with the topics- it will be fun! All you have to do to participate is to sign in with twitter at 10:30am
HERE
. I really hope some of you will join me!