If you need more info about Pour Your Heart Out, see
THIS
post.
But, really, it's anything that YOU consider pouring your heart out.
Be sure to check out some of the links- you will find some amazing stories out there.
Again, just a brief reminder that everyone linking is pouring their hearts out and we should all be respectful in our comments. 😉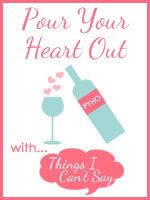 Dear Monkey,
this weekend, you turn 6. Six. How did that happen? I still remember the day you were born like it was yesterday.
It has to be hard to be the oldest of three. There wasn't a very long time when you were the only child. When you were a baby, you HATED sleep. And only slept for 1.5-2 hours at a time until you were almost 6 months old. You must have thought your mama was crazy because I was often upset. It was the sleep-deprivation that did it.
You eventually slept better, though, THANK GOD. By the time you were 8 months old, we knew you were going to be a big brother. Even though we wanted it that way, I was still sad to think that you wouldn't be my only baby any more. Don't tell your brother, but I remember rocking you shortly before he was born and crying because I knew I'd miss those moments with just you and me.
You started climbing over the furniture shortly after that(which is how you got your nickname of "Monkey") and could run around by the time you were 10 months old.
Right before you were 17 months old, your younger brother was born. I'm sorry, my sweet boy, for how Mommy expected you to be a big boy then. You couldn't be carried and I expected you to listen to me and be good while Mommy took care of the baby. And you did. But, I'm sorry that you weren't allowed to continue being a baby for longer than that.
About a month later, you started speaking in sentences. Before you were even 2 years-old, you could hold complete conversations with people. You started speaking in essay-form. I don't know whether to apologize for not realizing that this was highly unusual or to be glad that I didn't know any better. If I had known how unusal that was, I might have been one of those obnoxious, bragging mothers. But, now I understand why others would give you weird looks when you could talk to them like that.
Everything seemed to come so easily to you. You loved adventure and trying new things.
You became a big brother again when you were 3.5 and took it all in stride. Shortly after that, you went to day camp. In the woods. Four hours a day for two weeks. I look at your younger brothers and think that there is no way that they could do that at that age. But, you were up for it.
Starting preschool was a breeze for you. Even when we had to move a year later, you loved the excitement and the beach.
You've made the transition to kindergarten so easily, too. I remember when you were a baby, thinking you would be starting in 2010 and that seemed so far away. But, now, you're almost halfway through kindergarten and on your way to being a first grader.
Time passes so quickly.
You are the child who is most like me. It's probably why we butt heads so often. We're both so strong-willed and stubborn. I love you so much and hope that you don't hate me for the disagreements we get into you. Even Daddy will listen to you, shake his head, look at me and say "He's so your child."
Daddy and I are harder on you than on your brothers. We go easier on Bear because there is much he doesn't understand and he was so sick that we constantly worry about him. And Cub is the baby of the family. It's not fair to you, I know. But, then again, I don't think you would tolerate us treating you like a baby anyway.
To my bright, sweet, stubborn, first-born, Happy 6th Birthday. I love you.
-Mommy