If you need more info about Pour Your Heart Out, see
THIS
post.
But, really, it's anything that YOU consider pouring your heart out.
Be sure to check out some of the links- you will find some amazing stories out there.
Again, just a brief reminder that everyone linking is pouring their hearts out and we should all be respectful in our comments. 😉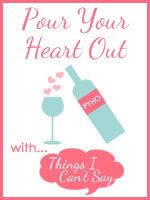 You can grab the button on my memes page: check the tab at the top of the page.
Today's Pour Your Heart Out has to do with my faith. I know I don't blog about it all the time, but if you are interested you can check out what I believe and a little more about how that plays out in my life.
Something hit me as I sat in church this past weekend. Our pastor is doing a series on "Practical Atheists," those who believe in God but act as if He doesn't exist.
I read this bullet point and felt my stomach sink: Someone who cares more about what other people think than what God thinks.
And all I could think of is the reason that I stopped going to Bible Study this past fall. You see, I missed out on the first two studies of the semester, due to scheduling conflicts with my boys' schools.
So, when I walked into that third study, there was no one at the greeting table to direct me as to where I was supposed to go. After I found the right room, I walked into a room of 300+ ladies all sitting at tables, talking away, waiting for the study to start.
No one said anything to me. No one asked me to sit with them. It took everything I had in me not to turn right around and walk out.
But, I decided to find a table where there was an empty seat and ask to sit down. I did…and even tried to introduce myself, but all anyone did was smile, nod, and go back to their conversations.
After some announcements, we were told to go to our small groups. I found out what small group I was assigned to and sat down with them. Very awkward conversation as they all looked at me like I had three heads because I was the only one in the group who was not a military wife.
Small group time is over and it's time for the video lesson. Everyone in the group gets up and disperses back to their friends.
I sat there thinking I wouldn't come back. I sat there judging, thinking that back when I ran a moms' group for my church back in PA, we ALWAYS had a greeter, along with others who were near the entrance to help people who were new. How we found a seat for them and assigned groups for everything so that no one was ever left feeling how I felt.
I sat in judgement of them. And I felt judged. I cared more about what they thought than about what God thought.


I never went back.
Even though part of my intent for going to Bible Study in the first place was to get to know some women in my church, the biggest reason was to grow in my relationship with God.
And I let that get set aside because I was too worried about feeling like the odd girl out in the study.
That's not right.
So, I'm trying again. Tomorrow starts the new semester of Bible Study and I signed up. I'll be there. And I'm not going to let it bother me if I don't fit in. Because that's not the point of going to Bible Study.
Edited to say: I will be there if it isn't canceled due to the crazy snow we have this week. We're on day 3 of no school.