If you need more info about Pour Your Heart Out, see
THIS
post.
But, really, it's anything that YOU consider pouring your heart out.
Please grab the button for your post and link up!
Be sure to check out some of the links- you will find some amazing stories out there.
Again, just a brief reminder that everyone linking is pouring their hearts out and we should all be respectful in our comments. 😉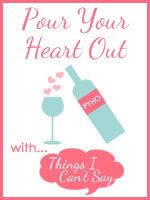 Back in college, I had this friend.
College Buddy.
He was my best friend.
I've talked about him a little bit before. He's also known as "my gay boyfriend who isn't gay." Since there is nothing romantic between us. He's been grandfathered in as an acceptable and non-threatening male friend.
We used to talk about everything and anything. We used to go "study" for our Social Problems class that we had together with a super-tough professor…and then joke that we spent more time talking about our own "social problems" than about the actual class.
He shared with me his dream of opening his own business. And I supported him in that, telling him that I knew that he could do it. That he could do anything he put his mind to. He had a lot of doubters, but I was never one of them. And, he did open his own business a few years ago, just like I knew he would.
But, one night, back in college, after listening to him go on about his dream, I felt safe in telling him about mine. What I didn't dare tell anyone before, because it didn't seem practical. And I was nothing if not practical.
And I knew most people would roll their eyes at me. Yeah, Shell, everyone wants to do that.
But, I didn't expect it from him.
"I want to write a book someday," I confessed.
But, his reply was like a slap in the face.
He laughed.
Laughed.
And then said, "Somehow I don't see you writing a Pulitzer prize-winning book."
And he rolled his eyes, shook his head, and went back to talking about the business he wanted to open.
I was crushed. To have my dream dismissed so casually. And he didn't even listen. A Pulitzer? No. Those types of books don't usually even appeal to me as reading material.
But, to have a book on a best-seller list? That was my dream.
I haven't ever done anything about it. It's still just a thought in my head, one that I don't really think about very often.
You all practically bring me to tears with your comments on posts like this one or that one. Because there are a lot of you who believe in me- without my ever having confessed this dream to you- and you have no idea how much that means to me.
I don't know why I hold on to past hurts the way that I do. I'm still friends with College Buddy. And there are so many good memories of our times together.
But, whenever someone mentions me trying to write a book, I can still hear his quick reply in my head and feel a pang.
It's a reminder to me, though, to watch my words. That a comment spoken without much thought could be enough to haunt someone for years.
I hope to never be that person. Never to accidentally and thoughtlessly dismiss something that is so important to someone else.