If you need more info about Pour Your Heart Out, see
THIS
post.
But, really, it's anything that YOU consider pouring your heart out.
Be sure to check out some of the links- you will find some amazing stories out there.
Again, just a brief reminder that everyone linking is pouring their hearts out and we should all be respectful in our comments. 😉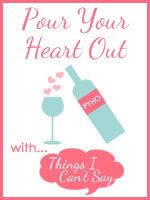 *****
Just a little unrelated note from me before we get started: I know that I totally suck this week at getting around to everyone's blogs and returning follows. I'm usually much better. But, between my boys' field trip, preschool being an hour away due to our move, trying to unpack, my parents being in town- and coming in a day earlier than they promised, my SITS day, plus what you will read in this post- well, I'm behind. Don't give up on me! Give me a little time and I'll be back to all your blogs again and return all follows. Love you!
*****
As soon as that tiny little newborn is placed in our arms, we not only become parents, we become worriers. And it doesn't ever stop.
Is he eating enough?
Will he ever sleep through the night?
Is that cry really just from teething?
What's that funny rash?
Will my child be potty-trained in time for preschool? For kindergarten?
Is he eating too much?
Does he have friends?
Is that normal?
We worry and wonder and pray and hope that we are doing the best job that we can. It's part of being a parent.
But, some parents have bigger things to worry about.
They have to wonder if their child is ever going to get better.
They wonder how long they will have their child with them.
They wonder if someone will find a way to cure their baby.
They run their fingers through their sleeping baby's hair and sob, wishing that they could take away what is making their baby so sick. So hurt. So fragile.
I don't know if there is a fear in this world that compares to the one that you experience when you learn that your child is sick. Really sick.
In case you are not familiar with Mission Monkey, you can read more HERE.
Take a look at this face and try to imagine the worries that are going through Michelle's heart:


Here's what I know: this could be any of our kids.
Any single one of us could have our worlds turned upside down in an instant. One check-up at the doctor's office, one diagnosis, and everything changes.
I want to tell you how angry I am that I even know how to spell "neuroblastoma." Because it's Jaden's disease and the one that took Ethan's little life recently. And now, it's Monkey's diagnosis, too.
Ian, over at The Daily Dose of Reality, is organizing a fundraiser to help this family: having a sick child is an emotional hell and a financial one. There have been lots of you who donated items for the raffle that is going to be held. I won't go into too many of the details here, because Ian has them for you today on his blog. Please check it out. Ian is the one who came up with Mission Monkey and is organizing this. I simply told him that I would do what I could to help. And since I have a big mouth, I'm using it to spread the word.
You can grab Monkey's new button- the code is over on my sidebar. If you click on that link, it will take you directly to Monkey's paypal page, where you can make a donation.
Now, I know that times are tough. They pretty much suck for my family right now, too.
But, we have to remember that there is strength in numbers. According to my little readers counter, I have about 800 readers….if everyone of you donates $1, that's $800…think if all of you donated $10. Together, we'd donate $8,000. And that's not including all the other bloggers that are doing their part to spread the word to help Monkey's family.
So, think about it: every little bit helps. Think if it were your child because it so easily could be.
Please keep Monkey in your prayers and go visit Ian to see how the raffle is going to work.