If you need more info about Pour Your Heart Out, see
THIS
post.
But, really, it's anything that YOU consider pouring your heart out.
Please grab the button for your post and link up!
Be sure to check out some of the links- you will find some amazing stories out there.
Again, just a brief reminder that everyone linking is pouring their hearts out and we should all be respectful in our comments. 😉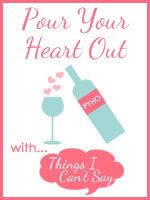 Vanessa, at Much More Than Mommy, one of my favorite bloggers ever, and I were thinking along the same lines this week. You HAVE TO go check out the challenge that she has in Monday's post. Help her get to 50 comments on her post so that she will do her challenge…yes, I know, that doesn't really make much sense until you go read her post- so, please go show her some support. You'll probably even feel better about yourself after you follow her instructions for your comment. You know, AFTER you read my post. 😉
I had to do the worst kind of shopping last week.
Bathing suit shopping.
Yes, I know- bathing suit shopping after it's already summer = a picked over selection, making it even harder to find something acceptable.
I tried on suit after suit and just got more and more frustrated.
Noticing the stretch marks on my belly.
And the weird thing that happened to my belly button after being turned inside out 3 different times.
And my sad, small, no-longer-perky boobs.
And my thighs that touch at the top.
I thought I hate my body. I'm so fat.
But, here's the thing: I'm not really fat.
I'm not model-thin or like I used to be pre-baby.
But, unless you are model-thin or a stick or have that nice toned pre-baby body or are a celebrity or have gone through cosmetic surgery, well, you probably would never dream of calling me fat. Even then, you probably wouldn't say fat. You might say I could stand to lose a little weight, but you probably wouldn't say fat.
I look in the mirror, though, and see all the imperfections. I look closely and see it all.
All the things that I'd like to change. All the flaws.
And I want to go hide under a big mumu.
Or at least a sundress. Sundresses have been my saving grace this summer. Because they can be loose enough not to show every flaw and yet still look like I'm putting an effort into my appearance.
I even have to buy them in a size small.
Gone are the days when I would drop a pair of jeans on the dressing room floor in disgust and pout because they only had a size 0 and not a size 00.
Still, a small's not bad after having 3 kids in less than 3.5 years.
But, I can still look in the mirror as I try on swimsuits and feel disgusted. And imagine that I could get this lifted and that tucked and this sucked out.
I could have left with no swimsuit at all. And hid under my sundresses all summer.
But, I needed a swimsuit to be able to play with my boys and to keep them safe at the pool.
And so I heaved a big sigh and found one that I thought covered enough that I didn't look like I was trying to relive my pre-baby days but was stylish enough that I wasn't channeling grandma.
After I got home, I realized that the only one who examines me that closely is me. And maybe some haters but they don't count..
So, when my boys asked if we could go outside and play in their sprinkler, I decided it was way too hot to be in anything other than a swimsuit.
I sat out there with them, in just my suit. And didn't feel self-conscious when neighors passed by. And even got into the sprinkler with them a little bit.
I realized that it didn't matter. My boys think I'm beautiful. And so does Hubs.
And I could be confident and comfortable with myself as I am. I'm learning to be able to look at myself in the mirror and see the good, not just the bad.
Don't forget to visit Vanessa's post, as well as some of the links below!