If you need more info about Pour Your Heart Out, see
THIS
post.
But, really, it's anything that YOU consider pouring your heart out.
Please grab the button for your post and link up!
Be sure to check out some of the links- you will find some amazing stories out there.
Again, just a brief reminder that everyone linking is pouring their hearts out and we should all be respectful in our comments. 😉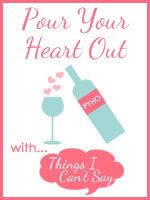 I'm using this week's Pour Your Heart Out to tell you how much I love you.
No, really. I do.
When I first started this blog, it was just an outlet for me to rant where I didn't have to worry about what friends or family would say.
I didn't blog very often and didn't really put any thought into it.
I didn't read other blogs or do anything to get anyone to read mine. Because I didn't really get blogging.
To me, it was more like an online journal. Free therapy.
But, about 9 or 10 months ago, I started reading other blogs. Following. Commenting. Relating to them.
And that led to people finding my blog. Following. Commenting. Relating to me.
And then I got it. I understood this blogging thing.
Getting to read your blogs and find out how much all of us have in common.
Or being able to better understand our differences.
Putting something out there that I sometimes think, "OMG, I can't believe I'm admitting to this" and having the overwhelming response be "ME, TOO!" or at least acceptance. You know, except for a few trolls, but we just ignore them.
I love the conversations. The emails back and forth where we get to know each other better. If you've never had an email from me after a comment you left, you are no-reply and should fix that.
When I talk about you, I don't say "Oh, this girl who writes this blog, she told me that…." I say "My friend told me that…."
Because that is the way that it feels.
I've had the chance to meet a few of you IRL and it doesn't feel weird. It feels like you are seeing a good friend again. Not for the first time, but again.
I'm actually headed to meet the fabulous Princess of Sarcasm this afternoon. Even though I didn't even know her real name until a few days ago. Though she tells me that I've known for months. I guess I just have a bad memory. Shell can be bribed with massive amounts of money for this secret information. Okay, not really, because she could out me, too.
But, a while back, I would have thought OMG, I'm going to meet someone that I only know from the internet? That's insane. Now, though, it just feels normal. Even if I am a little nervous. After all, I'm meeting royalty. And I have really bad roots right now. And I'll be in a swim suit. And have my children with me, who could decide to royally misbehave, just for fun.
Btw, I only have this morning to visit blogs, so I'll have to do some catching up tomorrow, since I'll be off on my royal visit around noon. If you link up and/or comment today, I promise you a visit tomorrow.
And I know you'll understand.
Because blogging does feel like a community, like friends, like family- the blogfia.
Because of all of you.
So, thank you. Thank you for being a friend….yes, I totally had to go there with the Golden Girls theme song. Oh yes, I did.