If you need more info about Pour Your Heart Out, see
THIS
post.
But, really, it's anything that YOU consider pouring your heart out.
Please grab the button for your post and link up!
Be sure to check out some of the links- you will find some amazing stories out there.
Again, just a brief reminder that everyone linking is pouring their hearts out and we should all be respectful in our comments. 😉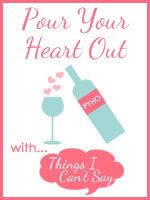 This post is not what I thought it would be. I had something else in mind, but I felt a pull to write about this instead. It's a little jumping back and forth between two different views, but, it's also the way that I feel. Even though there are many issues that I feel very strongly about, I almost always have an exception. And so that's where this is coming from- it's not taking back everything that I've said about a certain topic, but just letting you know that I so see beyond the black and white.
I'm going to talk about something that I've never talked about here.
Something that you probably wouldn't expect me to talk about if you read Monday's post or any of my other posts about marriage(which you can check out by clicking on the "marriage" label at the bottom of this post).
You see, I talk a lot about how I believe that love is a decision and you have to work to make your marriage last.
I talk about how Hubs and I reached at point before when we almost didn't make it and how we made the decision to stay together and work on our marriage. And how good things are now.
So, you might think that I am someone who frowns on divorce.
Who gets all holier-than-thou and snotty if someone is divorced or is thinking about getting divorced.
Sorry, that's not me.
You see, my parents separated back when I was 10. And, oh, PRAISE THE LORD that they separated and got divorced(being a child at the time, I have no idea when it all became official, but I do remember when we left).
And I remember my mom getting upset and crying a few weeks after we left, telling us kids that she was sorry for breaking up our family. My wise 10 year-old self said, "Don't be sorry, Mom. You're happier now than you ever were before. And we want a happy mom."
My parents divorcing was the best thing for us kids and my mom. My father was an addict., Prescription pain pills, but trust me, all addicts show the same sorts of behaviors when it comes to trying to keep up their supply. Years after they were separated, I was home alone, practically knocked out from the pain pills I was taking for the inner and outer ear infection I had in both ears all at once. And my father showed up and was banging on the door to get in- he wanted my pills. I hid in my room and prayed he'd think I wasn't there and that he would go away. He eventually did. But, can you imagine what it would have been like if we'd still been living with him?
I know, from experience, that there are valid reasons to divorce. Addiction and abuse being two big ones. You have to make sure that your marriage is a safe one for you and for your kids. If it's not, get out. Though again, I don't judge and if your spouse is actually doing something to change and you are staying to support, well, I applaud that, too.
Around here, there is a huge military base. And so many of the Marines get married while they are still babies. To women who are babies, too. After knowing each other for a whole week because the guy is about to be deployed for six months. And then he comes home to a wife who is 4 months pregnant and can't even say for sure which guy is the father….you might think this is an urban legend, but I've seen it happen….well, in that situation, I certainly wouldn't launch into a lecture about trying everything you can to make it work.
We can never know what someone is going through. We don't know what made them decide to divorce. And so, I'd never judge.
When you hear me talking about marriage and how important I think it is that couples put effort into their marriage and make it work…well, yes, I believe that. But, Hubs and I also didn't have insurmountable problems. Ours were mostly petty that we blew up into something much bigger than what they really were.
I try to offer support and encouragement to women who are going through the same sorts of things that Hubs and I went through: feeling disconnected, feeling like you're growing apart, feeling like you want different things out of life, thinking that the passion is gone, thinking that your spouse doesn't make you happy any more. Things that I think can be worked on. Situations where a little effort can make a huge difference and turn your marriage around.
I want to be that voice that you can hear telling you that it's possible to make it work. I've had email conversations with a lot more of you than you'd ever guess about what you are going through in your marriages. I bet you even read some of the blogs by the women I've emailed with and you would never, ever guess what is going on. Don't worry, no names. I want to be encouraging because I was lucky enough to be surrounded by a group of very caring women who encouraged me when I was the one who needed to hear it.
Because I know that if you confide your marriage problems in someone, there's a big chance that person could say, with head bobbing and finger wagging, "Ooooh, girl, I'd leave his ass." Because it's easier to say that than to know what else to say. Divorce is so common these days, right? So, what's the big deal?
So, for those of you who are in situations like what Hubs and I were in- I do encourage you to try to remember what made you fall in love in the first place and to fight to save your marriage.
But, if your marriage is/was destructive, like my parents' was, I applaud your strength in getting out. And, if you have kids, they'll thank you one day for getting them out, too.
Marriage and divorce…just like every other choice in life, is a personal thing and I would never begin to think that I know what someone else went through.