Today, my sweet friend JDaniel4's Mom has asked me to give my take on "Pause Life for a Moment" for her weekly series.
Please go visit my guest post over on her blog. Who wouldn't want to pause life for a moment?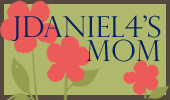 P.S. I've been in Louisville, KY for #GEMomsperience since Saturday night and will return late Tuesday night. I'll return emails and blog visits on Wednesday!
I know you're shocked I'd choose a bright pink hat.
Comments are off.