What?
No one could find Hammer pants for last week's song?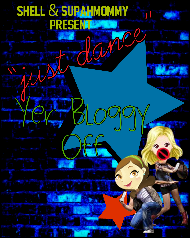 Our U Can't Touch This Dance Queen….
Reclaiming her crown for the THIRD TIME…
I think…I lose track of this stuff…
is Messy Mommy!
Please click HERE to enter your info for your prize!
*****
As for the ULTIMATE Dancing Queen between
Supahmommy
and I….
Well, I was sick and didn't dance….
And Supah didn't show her lame score.
So, the title this week goes to my HUBS!
Gotta give him credit for rockin' it out in my bathrobe.
*****
This week's song: Womanizer
Short version, please!