I couldn't not play along with Supahmommy and Mommybrain's All About MEme Monday because they are asking about your word/phrase.
If you've been around here at all, you already know this, but I thought I'd point it out in case you didn't know.
Motherbitches: what the mean girls of junior high turn into when they age and procreate.
Have a run in with some motherbitches? Grab my button and write about it!
Want to see other people's words?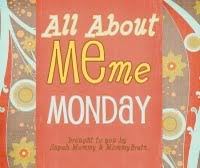 *****
This is a Mommy Moment blast from the past.
When Bear(who is almost 4) was about 1.5, I took him and Monkey to go meet my friend Loralou not really her name but it's what I call her in my head.
I had never actually met her. We had "known" each other online for a year and a half, though.
I walked into her kitchen, with Bear perched on my pregnant belly. Introductions to our children have barely been made.
When………brrrrrrrrrrrrrrrrrrrrrruuuuuuuuppppppppppppppppp
Comes the noise from Bear's diaper.
EXPLOSIVE POOP.
Shot right up his diaper, all over his clothes and mine and all over her kitchen floor.
Nice to meet you, now I must go bathe my child and change our clothes.
*****
Hosted by Krystyn
It pretty much takes a holiday and me forcing the camera into someone else's hand to get a pic of ME with the kids, but every so often, I do it. I need to do it more often. That's the idea behind this last meme.
It would help if my boys were a little more cooperative about it, too….