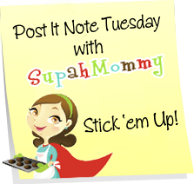 Say it with post-its! Click Supah's post-it to play along!
Click to visit:
HEY GUESS WHAT?
SOMETHING FUN for YOU.
I'M TEAMING UP with
Supahmommy
Who thought my idea was so FABULOUS she just had to get in on it.
And I jumped at it because she's sort of famous, you know.
Plus, she has mad prize-getting skills…
to bring you :
"Footloose"
"Just DANCE Your Bloggy Off"
WATCH FOR IT !
Did you miss the brave souls who went first? Click
HERE
.
Sunday
wants to keep her crown.
Which really should be mine, but I was being all nice and stuff and saying that I couldn't be the winner.
Go get Wii .. Just Dance and get ready to get yer butt kicked for prizes. It's on sale at Target and Kmart for $29.99!
PRACTICE!!!!