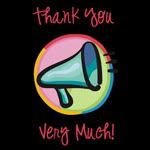 I just love the excuse to rant that Kmama's Thank You Very Much gives me, so I'm linking up and getting some of my rantings out.
Boys, how about instead of sleeping in on a day when we have to be out the door early, you pick a day when Mommy could actually get a little extra sleep as well? Tomorrow would work for me. Thank you very much.
To Hubs, who invited your friends over at the last minute and expected me to make dinner for everyone. And even though I made blackened chicken cajun alfredo and cream puffs with chocolate pots de creme…all from scratch…you had to ruin it all when YOUR guests were snacking on the spinach artichoke dip (that I bought from the deli) as I was finishing up cooking…the one freaking thing that I didn't make myself…when they said that they liked the dip, you had to sarcastically say, "Made it from scratch." To you, I say thank you very much…and that next time you invite guests over, YOU make dinner.
To my parents, who decided that it was appropriate to discuss Tiger and all his drama in front of my children and pass on their obnoxious racism by teaching Monkey the wonderful saying of "Canaries and blackbirds don't mix," Thank you very much.
Cub, I really appreciate the way that you chose my brand new actually-fit-me-awesome jeans to use as your snot rag. Thank you very much.
And Hubs, yet again, thank you very much for raining on my shoe parade. I decided to try to get some shoes that were more stylish and made me look more put together than always throwing on flip-flops or my ancient Docs. And you see them by the door and ask, "Did your mom leave a pair of her shoes here?" Thank you very much!
They are cute, yes? Or maybe not…I'm not exactly the fashion queen. But these have to be better than my usual flip-flops, right?
I do have a sincere thanks to give those of you who read my post yesterday and gave me wonderful words of support. I do greatly appreciate you and will share more of what is going on when I can.