You loved watching the few brave souls dance last time.
If you missed out, click
HERE
.
But, we need to dance some more!
I am teaming up with
Supahmommy
who wanted in on my fabulous idea
to bring you:
You need Just Dance for Wii to participate.
Many, many, many of you have bought it recently.
You're welcome, Nintendo.
And everyone LOVES it.
We will pick a song for this week to make it fair.
Since doing the "mashed potato" is MUCH easier than telling someone that "you can't touch this."
Song for the week: GIRLS JUST WANNA HAVE FUN
Here's what you do:
* PRACTICE. The SHORT version of Girls Just Wanna Have Fun.
*We need video proof of your dance and your HIGHEST SCORE on your blog. No editing. So you might be filming yourself nonstop for a week. Pretend it's your own reality show.
*Only ONE entry per person.
*Set your dance to post at 9am EST NEXT Friday.
SO YOU CAN'T CHEAT BY WAITING TO SEE THE OTHER SCORES FIRST.
*Be sure to put our button on your post.
Thank you Amber for your help making it.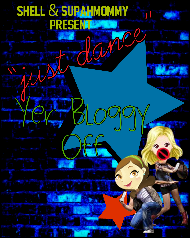 *Email Shell or Supah when your post is up. We'll keep your score a secret until DANCE OFF TIME and then we'll link you up ourselves. Come back to our blogs to see the other contestants and to see who wins!
Our high scorer will win 4 brand new advanced copy romance books courtesy of Hatchette books.
And the title of Dancing Queen of the Week.
Major bragging rights right there.
You can't possibly look as silly as my bil this random guy I don't know:
if the video isn't appearing for you, just refresh and it should be there.
You don't want to miss it.
And, you know, there might even be a booby prize!
Supahmommy and I will be having our own little competition.
It's not really fair if one of us wins. Don't listen to Supah's lies about my being an exotic dancer- she's just trying to distract you from her past. And she's jealous that I was a former ballerina back when I was seven. But, since we're both ultra-competitive, we couldn't completely sit this out.
So, we will be competing against each other for the title of SUPREME Dancing Queen of the Week.
That's right, we get to be SUPREME.
Supah has seen me dance irl. After consuming countless $1 drink specials. So, she's not scared of me. She should be, since the Wii doesn't care that I look like a dork when I dance; it only cares if I shake my Wii remote the right way. And, oh, I can shake it!
Are you ready to DANCE????
Tomorrow is the last day to enter the Color Cookies Preschool Game Giveaway
Click HERE to enter