Womanizer, womanizer, oh, you're a womanizer. Oh, you're a hmm, hmm, hmm, so that's what you are….
Um, that's what the words sound like to me. And I sing it like that. LOUDLY.
As I dance, dance, dance….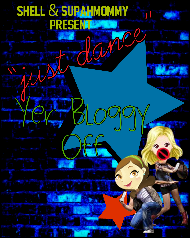 Do you have Just Dance for Wii?
Post a video or you dancing to the short version of this week's song: Womanizer, grab a button, and link up!
Just Dance T-shirts are on their way for our winners!
I'm trying to get my video uploaded(I predict this is the week Supah actually beats my pathetic score, even though I love this song!), but I have to leave soon to go get my hair did…um, not a natural blonde and I haven't had my roots touched up since January. Yeah, it's scary and I'm putting that ahead of making sure I have my video up. People, I have a wedding to go to tomorrow, with people I haven't seen in years. So, please excuse my video being late!
I'll be by to see your videos later this afternoon!
Link up your DANCES!