It's time to dance, dance, dance!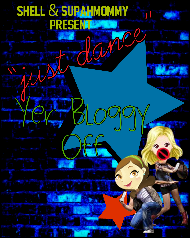 Do you have Just Dance for Wii?
Then you can join in with
Supahmommy
and me!
Today, I really do feel like dancing! Or maybe jumping up and cheering like a cheerleader, even though I never was one. I won a mother's ring from Vicki at Frugal Mom Knows Best!
She has a fun meme on Mondays: Mommy Moments. You should check it out!
Anyway, back to the dancing!
This week, we picked Hot n Cold.
Do your kids watch The Squealkel? Nothing like hearing my boys trying to sing along with the Chipettes to this song, though they think it says, "You change your mind like a GIRL!" and they leave off the rest of that line.
I'm thinking that my husband is teaching them early on to believe that.
Punk.
Anyway, here's my dance with my awful score. I would have kept dancing, but Survivor was coming on- how CRAZY was that tribal council last night????
In case you wondered why I'm a little totally scattered- I'm in packing HELL, since we move next Friday.
So, my video:
Refresh if it doesn't show for you right now.
One True Media hates me sometimes.
Now that you've had your laugh at my expense, could you please go give Mason your daily vote for Baby Idol? Link goes right to his page, click 5 stars, and you're done. Thanks for voting HERE.