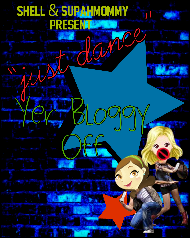 Who the heck picked this song? Was it really me?
Talk about a freaking workout!
If you are new around here, we pick one song from the Wii Game "Just Dance" and have a bloggy dance off.
The other participants are linked up below…or will link up soon.
They compete for fabulous prizes from our sponsor, Just Dance.
And Supah has something else for ya, too.
Totally blanking on what right now.
I know, I know, I'm really lazy. I should go look.
Supah and I compete against each other for SUPREME Dancing Queen.
So far, I've won the crown twice and Supah: ZERO.
But, her videos are totally hilarious.
She might stand a chance at winning this week, though, because this is my worst song one of my worst songs. Next week's is worse for me….
This is a learning experience for me: for it NOT to always be about winning, but about having fun. I better learn that before my boys are old enough to understand how their mama thinks…
One True Media video below: refresh if it doesn't appear at first.
LINK UP, DANCERS!!!!
AND DON'T FORGET TO LEAVE A VOTE IN THE COMMENTS FOR FAN FAV!!!!
*****
Next week's song:
Bebe
Extra points if you sing along in that baby voice.
Not really, but it will make me laugh
and then I won't be the only one singing like that.