Oh, oh, oh, Hammer Time!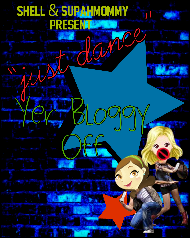 Just Dance t-shirts have been made and are being shipped!
To play: you need Just Dance for Wii
Get a video of your highest score of the short version of the song for the week: U Can't Touch This
Grab a button.
Link up!
In case you didn't read my whining on twitter, I'm sick. I thought it was allergies, since the pollen is insane and I can't breathe, but I have a fever, too.
So, HUBS stepped in to dance in my place.
IN MY BATHROBE.
He didn't practice, just tried once, so his score isn't the best(Supah probably beat him), but you have to give him some credit for doing this for me. I promised him some lovin.