It's here. The big day when I embarrass myself by showing you just how much I can't dance.
But, I can still completely ROCK a high score on the Nintendo Wii game "Just Dance."
You can look like a retarded stringbean when you dance(name that movie) and still get a good score. Though, since the diet isn't going so well, "string"bean would be the best description. Butterbean? I don't know. Mmm, I love butter.
I danced down in the mancave. Shell claims no responsibility for the mess in the mancave as it is not her personal space.
In my yoga pants. Comfy things, those.
Since, really, you could probably care less about what my high score is, but like to laugh at people making complete fools of themselves, first comes my highlight/outtakes reel. I have no idea why both videos got combined in this first one…I wanted to have two different videos…oh well- my high score is right after the montage.
Yes, you are allowed to laugh. I laugh. It's a good thing to be able to laugh at yourself.
If the videos do not appear for you, refresh the page and they should show up.

Done laughing at me yet?
Really, it's fun to jump around and be silly.
And no, I hadn't had anything to drink.
Though I fool myself into believing that I dance better when I've had a little drink.
My high score for the short version of that song is 10,985: for those of you who found that too painful to watch all the way through.
Are you still laughing at me?
Thankyouverymuch.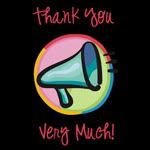 I know that there are few brave souls out there who are dancing along with me today. C'mon: your videos can't be any more embarrassing than mine. There's even a very creative gal who decided to play along, even though she doesn't have a Wii! Please go visit these fabulous people!

There IS another dance contest coming…so be prepared!
P.S. I'm updating the buttons on my scrolly-thing: if you have mine and I don't have yours, please let me know so that I can grab you back!