Just Dance Yer Bloggy Off is here!
The biggest and best blog dance party around!
And we have FABULOUS news!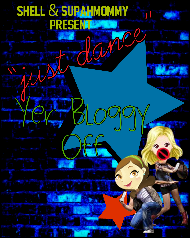 Guess who is sponsoring our contest now?
Just Dance!
Yes, really.
They are going to help us offer fabulous prizes like Just Dance t-shirts
and
SUPERFLY HEADBANDS!
Which Supah and I will wear for all the challenges, of course.
I can totally rock a headband.
This week's challenge was to get the highest score you possibly could dancing to the short version of "Girls Just Wanna Have Fun."
Please vist all our amazing contestants:
Be sure to come back and tell me who was your fav.
Fan Fav…we have something for you, too.
Who had the highest score?
Who is our big winner?
Official announcement of our Dancing Queen of the Week
as well as Fan Fav
will be tonight.
Get your votes in by 9pm.
*Supah and I can't win this either, even though I know you'll want to pick my video.
As for Supreme Dance Queen of the Week, Supah and my own little dance challenge, I tried my hardest to get the highest score that I could.
I'm competitive like that.
It just so happened that my high score did not happen when I was dancing at night, with my boys safely and quietly tucked into bed.
Instead, it happened when all three of my boys were running around and I was paying more attention to them than to my dancing.
I could have posted a video where my dancing looked better, but I had to go with the highest score.
Okay, and maybe my dancing didn't look much better in the other videos anyway.
So, here's my video…and a glimpse into the daily happenings around here.
Did I beat Supah? I hope so! I want to be the Supreme Queen. Maybe I could wear a tiara around Bloggy Bootcamp this weekend.
NEXT WEEK'S CHALLENGE: the short version of WANNABE. You know you love some Spice Girls. And those headbands might just be better than a tiara!

*I am off to Bloggy Bootcamp as soon as I can get my butt into my yoga pants and my kids to their Gma's house. I'll return follows, respond to comments, and go visiting your blogs later! On the road all day and then bootcamp all weekend!