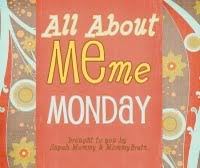 5 things(more or less) that distinguish you from the crowd.
You'll have to excuse me this morning, as I was dealing with sick kids all day yesterday and then went out with a friend last night and didn't get to bed until 2am. And of course, my children couldn't respect the fact that Mommy tried to act like she was 22 again and let me sleep in.
So, all I've got is a few random things that popped in my head, no planning this time.
I've never been able to whistle.
I've never wanted to be in Times Square on New Year's Eve.
I've never watched an episode of Lost.
I've never wanted a dog.
I've never tweeted.
I've never owned a pair of Uggs/ugg-like boots.
I've never not finished the book for book club.
I've never cared whether someone chose to breast or bottle feed.
I've never put ketchup on my fries.