Do you know what is better than spending the weekend away and coming home to find your husband cleaned the house and has a new appreciation for all that you do? Absolutely nothing. Having the honor of being a part of Dumb Mom's NEW and IMPROVED ifriends. So please, go check out her newest brain child. We are both talking about keeping it real. Her commentary on my guest post is hilarious. I wish I could be as dumb fabulous and witty as she is.
If you happen to be here from Dumb Mom's blog, and you want to see what my writing is like when it is not accompanied by Dumb Mom's commentary, click
HERE
. Because the fabulous post below was not written by me.
This month, I have been a part of
Friends You Love
, a diverse group of 15 bloggers who have been celebrating International Women's Friendship Month. I love getting to know new people. On Mondays, we encouraged you to pick someone who follows your blog but isn't the most regular of commenters and ask them to guest post for you.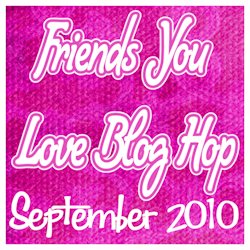 For my final choice for this blog hop, I picked royalty. Going out with a bang, you know. I asked The Empress, aka Alexandra from Good Day, Regular People. Though we do read each other's blogs, I'm not breaking the rules of the hop by having her guest post because she's not a regular on here. How dare she have better things to do than comment on every single post I ever write. But, like Dumb Mom, she's incredibly witty and I knew she would write something about friendship that would make you think. Plus, I get the feeling that she doesn't like me and I wanted to prove that I'm not an evil witch like I feel like she has been led to believe.
When Shell so graciously asked me if I'd like to write a guest post on friendship, I jumped at the opportunity. Friendship is a subject that is so very important in my life. "Yes!" I replied with way too much eagerness, "yes!"
"This will fly off my fingertips," is what I thought. "I won't be able to stop typing."
And, then, when I sat down to write, I sat. Just that. No words would come. There were too many fighting to be on the page. I sat, with my notebook open, my pen still, and wondered how I could capture all the feelings I have down about friendship, in one post.
What do I cover first? The story on how friendship has saved my life? Or do I talk about the kindness of a stranger that grew into a friendship? And I had to be sure to talk about how my friends can make me feel as young as a giggling teenage girl again.
The more I thought of what I had to be sure to cover, the less I was able to write.
Our English language is woefully inadequate and lacking when it comes to the definition and description of friendship.
There really are no words, there is only a mental image. The expression, "a picture is worth a thousand words," fits so aptly here. When you mention the word friendship to me, my mind is flooded with hundreds of smiling, beaming, radiant faces. I see my friends throughout my life. From when I was in kindergarten, to the most recent friends I've made here, when I began to blog.
It makes me think, is friendship a word, or is it an emotion?
It surely is a precious thing, for at the times I've been without it in my life, my days have never been darker, or heavier. Friendship means so much to me, that I value it, and esteem it, and appreciate the blessings that I have in my friends. I do not take knowing them for granted, for I know the richness of having a friend placed in my life.
If I were to write of the many, many times in my life, that my friends have come to my side, this post would have no ending. And, still, when I'd hit Publish, I'd yet remember another story that I neglected to mention.
I've had valleys in my life, where I've had no hand to hold, no arm placed around my shoulder, no ear to listen, hear, and understand. Times when I've not been able to lessen my pain, and halve my burden, by the gift of sharing it.
A friend will make the difference in your day, make things feel not quite as heavy and impossible anymore.
A friend will multiply your joy at good news, and rejoice with you when happy things are to be shared.
A friend will beam with pride at your accomplishments, and share the joy they feel at knowing you, with others.
And is there anything more delicious than laughter to the point of tears, with a good friend?
A friend is an ear, a heart, a hand. They will help you cross that bridge you need to cross: be it good or bad. They will help you carry what you need help carrying. Whatever it may be: work, family, changes, anything you may need their help with. They will get you to the other side.
One of the truest adages I read on friendship struck me to the core, because it feels so true, is the following, "In life, a friend feels so instantly familiar because they have already been chosen for you."
Thank you, to my friends, and thank you, for the gift of friendship I've had in my life. I hope I've been there as your lifesaver, as you have been for me. You save me every day. I've lived life without you before, and though it took a long while to find you, you were so worth the wait. Because since having spent time without you, I now feel the sweetness of the time spent with you.
Thank you, Shell, for giving me the space here, to think about something so very important and precious in my life: friendship.
Ironically, Alexandra just wrote a post about guest posting, so please show her that this was worth her time. Nothing worse than hearing crickets. So, please leave a comment and go visit her, too. A-hem, same goes for my guest post over at Dumb Mom. *hint, hint, obnoxious begging*