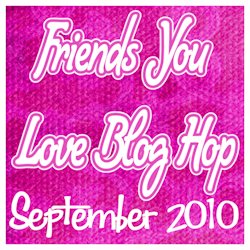 For this week's guest poster, I picked someone that I wish I would have met. We were both at Bloggy Boot Camp in Baltimore back in March, but didn't get to meet. I still say I should have stood up on my chair and started yelling for people, but then again, there are some people who probably would have hidden from the crazy chick up on her chair.
Erica from Mommy's Still Fabulous – don't you just love the name of her blog?
This month is about building friendships and making our existing friendships stronger…
I admit it. Sometimes? I'm not a good friend.
I forget birthdays and anniversaries. I don't call as much as I should, and I certainly don't give as much as other people do.
And I pay for it. Because while I might be a social butterfly, and love to have a bevy of friends around me, I don't have many good, close friends.
Oh, I have lots of girlfriends to call and chat with, or to share a cocktail with on a Friday night. But I don't have many friend friends…
I don't know if it's because I didn't have many girlfriends in high school, or I pushed people away when I was dealing with depression in college, but I don't feel like I have a core group of girlfriends who would drop everything they were doing to save my ass in a pinch.
Sisters.
Don't get me wrong; people like me are blessed.
I'm blessed to have friends that send me Hallmark hellos in the mail… just because.
I'm blessed to have a circle of girlfriends who are always up for sushi.
I'm blessed to have girls I can call for advice about things I wouldn't necessarily put out there in the Internet.
I'm blessed to have girlfriends with whom I can laugh over a bottle of wine.
I'm blessed to have girlfriends who tell me not to stress… and they mean it.
I'm blessed to have a husband who supports me and really is my one, true Bestie.
But sometimes, you need a girlfriend.
You need someone you know you can call at 2 am in tears, and not feel guilty about it.
You need someone you can have over for coffee, even if you're not wearing a bra.
You need someone you can share your deepest darkest secrets with – even if you would never tell your husband the same thing.
You need someone to talk you out of chopping off all your hair.
You need someone to help you fix it when you do.
You need someone who won't judge, even if you're shouting in hysterics just to be heard.
You need someone who thinks like you and knows where you're coming from.
You need someone who can hear you say, "I feel fat" and know you're not really talking about your thighs.
And I don't really have that.
So I keep a lot inside.
I run.
I write.
I laugh.
I clean.
I work.
I am my own voice of reason.
I am my own best friend.
And I've spent a lot of time building me and making me stronger.
I love honest posts. She really is fabulous.
I hope that you will visit her blog, along with others that are linked up. The blog you land on might be new to you or their guest will be new to you or both! It's all about making new friends!
I have a guest post up in the hop, too: HERE
Please note that this is not a follow you/follow me blog hop. While you are welcome and encouraged to follow the blogs participating and their guest posters as this is about making new friends, you need to have participated in this by either hosting a guest poster or being a guest poster. Please do not link up if you have not participated.