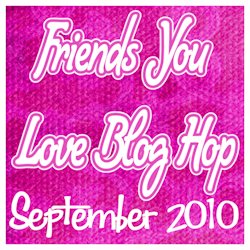 When I was trying to find someone to guest post for me this week, I thought I KNOW! I'll ask my roomie for Type A Mom. While we "know" each other already, I thought it would be a good way to bribe her to be my friend so she doesn't ditch me to be all by myself at the conference to get to know each other better.
Amethyst writes the blog Life, Music & Laughter: Life With a Soundtrack. Since I relate all major events in my life to songs, I definitely love how she adds song lyrics to her posts.
So, when Shell asked me to guest post for her, I was like "OMG! YES!" I was so honored because Shell is so freakin' cool! Then I read the rules about the blog hop and realized she was asking me because I'm like that weird kid that's always staring at the cool kids and doesn't really say anything, so, her asking me was like "either say something, or go away you freak!" So, here I am! talking with the cool kids! And, in public!
And now, the pressure is on to say something really cool, so, you can't tell what a big nerd I am, and I might actually get invited to one of the cool kid parties. Which reminds me of the time in High School that my friend and I planned a little party.
I've always had lots of friends, but I've never actually felt like I fit in in any one group. I'm kind of a friendship nomad wandering from friend to friend stopping off for awhile, but never really having that one place to call home; no one to call and say "oh my gosh, guess what happened?!" and no one calling me to say "wanna go shopping?" I don't have that one girl that I do absolutely everything with, the one that just gets me.
So, I was in High School, and my nomadic ways had taken me to being friends with a girl in my Orchestra class (see, told ya, total nerd, here.) Her parents were going out of town, so we planned a small party of 10-15 people. I told my mom I was spending the night, "of course her parents are going to be there, Mom."
Word of our party spread like wildfire, and next thing you know there's beer, boys, cheerleaders, wrestlers, and a foot through a television screen! This was totally out of control, but we were the cool girls hosting this awesome party! Everyone was gonna wanna hang with us! Finally, I would fit in!
Then, because all good things must come to an end…
One of the boys had answered the phone, and it was my mom on the other end. With drunken brilliance he told me "it's okay, I told her I was your boyfriend!"
"What?! You did what?!"
Next thing I know, my mother is at the house yelling at everyone to get out because she had called the cops.
I don't know about you, but I just don't think there is any way to retain coolness when you're being dragged to the car by your mom while you cry how it wasn't your fault! Nope, no chance of being cool after that incident!
Of course, that was High School, thankfully, who you are in school doesn't stay with you in the real world. I'm much more confident than I was then. I'm still a nerd, but I'm okay with just being me; that tattooed music loving, frugal shopping, little bit weird, mother, wife, magazine junkie, pirate girl. And, while I still don't have that one bestie girl to call on, and I still sometimes don't feel like I fit in, I have a lot of people to call friend; and that's pretty damn cool!
I hope that you will go meet Amethyst! And visit some of the linkers- maybe the blog you hop to will be a new one to you or maybe their guest will be! It's all about making new friends!