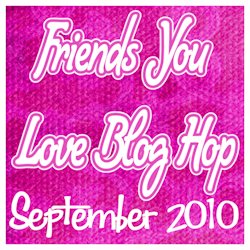 I wasn't sure who to ask for this first week of the FYL Blog Hop. After all, I wasn't supposed to ask the people who first pop into my mind when I think about needing a guest poster. You know, the people who comment all the time, whose blogs I read every single day, whom I feel like I know really well.
So, I turned to twitter and thought of who I sometimes tweet with, but maybe we are not each other's blog regulars. And that made me think of Debi aka @truthfulmommy who blogs at The TRUTH About Motherhood. She is doing a Be a Better Me(You) challenge right now that is definitely worth checking out. Having moved around quite a bit myself, I definitely relate to her guest post today.
It seems that I learned one of life's most important lessons from my preschooler. Last fall, my then 4 year old used to come home everyday chanting the phrase, "Mommy, to have a good friend, you've got to be a good friend!" I thought it was cute. It sounded blissfully simplistic; almost childish but the more I thought about it, it was one of the truest facts of life. I listened, actually took the advice to heart, and examined some of my own relationships.
This simple phrase made me conclude that you get out of a relationship what you put in and if you are not, if the friendship is unrequited, then it's time to end the relationship. Don't expect more out of a friendship then you are willing to put into it. As one of my closest friends once told me in reference to having a real friend, " It's like coming home." It is the feeling of being safe and secure to be you and be accepted and loved unconditionally. That is what I want out of a friendship. It's what I am willing to give and what I expect in return. I am not one for superficial friendships; I do not have the time or energy to play that game at this point in my life. If I call you my friend, I genuinely think of you as my friend, as my family.
Last year, my husband lost his job and I had to leave everything and everyone I knew behind. This deeply saddened me because I had finally made two close friends after 4 years of living in that city. I hated to leave them because as a busy adult with children it is a remarkable feat to develop a real friendship, if not impossible. Nevertheless, I had to go. I was afraid of no support system. I thought for sure the friends I left behind were going to forget about me and once again, I would have to start all over.
When we first arrived in Virginia, I was new and knew absolutely no one. To my surprise, the women I met there would prove to be some of the most wonderful and genuine women I will probably ever meet. They invited me into their lives, their hearts, and their families. They were supportive and amazing. They made me feel like I was at home, even though I was hundreds of miles from where my "family" and friends lived. I had never experienced anything like this before in my life. Who knew you could form such true friendships and quick bonds with other women in such a short amount of time, especially as an adult. We left Virginia without a job but much richer people. I left with a heavy heart, and I miss these women and their amazing spirits. We may be geographically apart but they will always be in my heart. They took me in, extended friendship and sisterhood, when they did not even know me. It wasn't for any reason other than to be kind to another human, but they will never know how much that kindness meant to me at that time and will always mean to me. I miss our talks, long walks, saying hi in the hallways, sharing our children's firsts in life, our laughter, prayers, the cocktails when we needed to decompress, but most of all I will miss their sisterhood.
They taught me about real friendship and inspired me to be a better friend. I just hope I can spend my life living up to the standard that these ladies have set. It was a hard if not very valuable life lesson to learn. Friendships are vital and can make or break you. If all Mommies, women, could have the kind of bond that nurtured and supported one another like my friends in Virginia did for me…the world would be a better place. Just remember, as my 4 year old once told me, "To have a good friend, you've got to be a good friend!"
Thanks to Debi for stepping out and guest posting for me! I hope that some of you will go meet her!
Please visit some of the links below! Maybe the blog you go to will be a new one for you or maybe their guest poster will be. Show them some love and make new friends!