So, I know it's not Friday. But, I'm addicted to doing Friday Fragments. But, tomorrow is the big dance-off: So, I'm doing mine today. Reminder: I have the blog police in my back pocket so it's okay.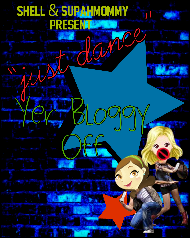 Click
HERE
if you need the rules.
Those of you who are participating, please schedule your posts for 9AM EST and then shoot me an email (or Supah- all dance links will be on both of our blogs) to let me know that it will be up and we'll get you linked!
Don't forget to grab a button for your post!
****
The earlier you tell me that you are playing, the happier I will be because I'm leaving for Bloggy Bootcamp tomorrow! You can even tell me today, and I'll get yours right at 9am. Please!!!!
****
There are a few of you who have followed recently that I can't find your blogs! So, if I haven't returned the follow, it's because I can't find you. Please leave me your blog addy. THANKS! 🙂
****
I've seen a bunch of getting-to-know-you(would that be getting-to-know-ME in this case?) posts around, of some of the other ladies heading to bloggy bootcamp this weekend. And I thought I'd join in. But, in my own fragmented way.
****
So, me…well, I'm the type of girl who can tell pour her heart out to you about a tough time in her marriage, call someone out for being a motherbitch, discuss age-appropriateness of a movie like a responsible parent, post a video where I had to shove as many marshmellows in my mouth as I could to try to win a contest, and review a sex toy. All in the same week. Oh, and I'm dancing for you tomorrow.
****
If you don't know what a motherbitch is, see the button in the sidebar. Now you know.
****
I have all boys. Do not pity me or ask if we are going to try for a princess. We're not.
****
I'm still sort of wishing that there was an official uniform for bootcamp- and that it was yoga pants and a comfy shirt.
****
I'll be in jeans and a green shirt that has bright pink lettering on it. With a saying that you should completely take as a joke and NOT roll your eyes at me for.
****
I joked about taking my son's kindergarten orientation bag with me, since I didn't have any other bag that I could carry around with me, other than diaper bags. It says, "I'm a big kid now."
****
Thankfully, The Purse Blogger decided to take pity on me and sent me this fabulous bag to use:
So when you see that adorable bag, you'll know it's me!
****
You should go visit her and see what other fabulous purses she has to offer.
Really, you should follow her.
I'll be hosting a giveaway for her here soon and I'll give you an extra entry if you go follow her now instead of waiting for the giveway.
****
Can you tell I distract easily?
****
I get to meet my bloggysister,
The Mommyologist
, this weekend. I can't wait. I think we're going to discover that we're really twins, separated at birth
****
I bet she doesn't have a huge zit on her chin, though. My 3 year-old keeps asking me, "You has a red boo-boo, Mommy? I kiss it." Which is sweet, but like I want any more attention drawn to it.
****
You're going to look for that now, aren't you?
****
I think that's good enough for now. I kind of suck at describing myself. Anyone want to help me out here?
****
Can't wait to meet those of you who will be at bootcamp this weekend.
****
Those of you who won't be there….waaaaaaaaaaahhhhhh!
I want to meet you, too. 🙁
****
Don't forget about the dance-off on Friday.
Play!
Or at least be sure to come back and watch.
And then you'll wish you had played, too.