Pics of my new hair cut are in the previous post, in case you're interested.

If you've been around here at all, you probably know that I love to read. And if you're new…well, hi, I like to read. I devour books, always have. Big time bookworm for as long as I can remember.
In case you missed it and are interested, here's my list of Keepers and Stinkers from 2009.
I actually had a long rant started in my drafts about my feelings about Dear John and when I saw this meme from Supahmommy and MommyBrain, I figured I could probably shorten my rant a bit you're welcome and play along. I do have a spoiler later in this post, but I clearly marked it, so you can easily skip it.
Btw, I recently joined goodreads so that I could list the books I read this year- widget is over on the sidebar. If you are on goodreads or join, please add me as a friend so that I can see what you are reading, too!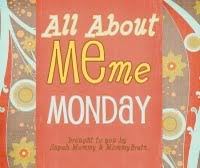 What are you currently reading? I just finished rereading Dear John and am in desperate need of a trip to the library.
When do you find the time to read? I ignore my kids to read or choose to read instead of doing the dishes or putting away laundry.
Where do you do most of your reading? Out on the deck as long as it's not freezing or on the couch.
How do you choose what you read? Suggestions of others, fav authors, judging a book by its cover, or whatever I have time to swipe from a library shelf before one of my boys has a meltdown
From where do you get most of your books? library because I'm cheap (or GREEN!)
What do you do with a book after you've finished reading it? return it to the library, or pass it on to a friend if I actually bought the book; if I LOVED it, I'll keep it
What are your book (reading) quirks? When I say whether or not a book is "good," I'm not talking about its literary value or the quality of writing or any of those things that I used to evaluate when I was a snobby lit minor. I'm talking about whether I, personally, enjoyed the storyline. Did the story fly by? Did it touch me? Could I relate to the story? Did I like the ending? So, it's a personal thing with me.
For example, I usually ♥ Nicholas Sparks.
He actually lives not that far from me and always has his first book signing of a new book tour at the rinky dink little mall about an hour away from me. I stood in line for 3 hours to get him to sign my books once- with a two month old in tow.
I know that I'll read a story about an amazing love that will touch me and probably make me cry.
I know to expect the sad endings(most of the time they're sad).
And, I'm okay with this.
However, I am NOT okay with the ending of Dear John. With the movie coming out soon, I decided to reread it and see if maybe my opinion would change, but it didn't.
Spoiler alert: if you don't know and don't want to know about the ending of the book. I can't say anything about the ending of the movie, as it hasn't come out yet and you know what they do with book-to-movie adaptations…
Anyway, if you don't want to know, scroll down quickly and leave me a comment with a book that you love so I can go to the library armed with a list. And go link up with Supahmommy and MommyBrain if you want!
Here's my problem with Dear John: at the end, you are left with a couple who is married. The wife loves her husband, but it's more a marriage that just happened due to circumstance and not because she actually is IN love with him. She's IN love with her ex and still thinks about him, wishing things had happened differently. Her husband, who just went through a bout of cancer from which he almost didn't make it, is well aware that his wife would choose to be with her ex if she wasn't so set on honoring her marriage vows, but her heart is really else where. And then there's the ex, who is still in love with the girl that he can never have.
Blech. Awful. Horrible.
What kind of love story is that?
Tragic, I know, but it just leaves me feeling icky.
I don't want to think about people in a marriage where one would rather be with someone else. And the other even knows it. It's just indescribably sad. It doesn't sit well with me at all. It's probably because of how I view marriage.
Yes, I'm sure I'll still see the movie and I'll probably even like the movie.
But, the book…I just can't recommend it.
Check back next Monday for more fabulous bookworm fun!