The grammar police in me wants to acknowledge that I know this next post-it should contain the word "repeatedLY" not "repeated," but the lazy part of me isn't going back to fix it.
Make your own post-its
here
.
Then, go link up at
Supahmommy's
blog.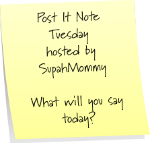 Do it, because post-its are FABULOUS fun!