My mommy said I have to tell you this or MommyBrain is going to make her clean toilets and Mommy said something about having enough toilets to clean.
So, please excuse my mommy from this Monday's MEme.
She had a very busy weekend, yelling at me and my brothers because we were all in a hotel room together or my aunt's tiny living room and she had to keep telling us to be quiet and stopping jumping all over the place.
Even Bear told her "Calm down, Mommy." Daddy laughed so hard at that that he started to cry and snot came out of his nose. I've been trying to laugh and make snot come out of my nose, but it's not working.
Mommy is camped out on the deck, saying something about needing to listen to the ocean to calm her down, so she can't do anything else right now.
I hope she feeds us today, though.
-Monkey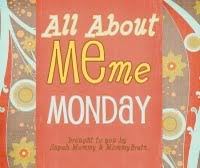 Supahmommy and MommyBrain want to know: what's your excuse?