Did you get a chance to visit some of the links from Pour Your Heart Out yesterday? They were absolutely fabulous. Broken hearts, blog friends, what heaven will be like, confessing secrets, judging others, whether to have another baby, even not knowing how to pour your heart out…those were just some of the topics covered. If you get time today, visit the links and I promise that you will find some amazing new blogs to follow!
But, because Wednesdays are now a little heavier reading days for me, I'm going to try to do some lighter things on Thursdays! I'm playing along with two memes that I've never done before. They're fun! And don't worry, I can double-dip and still keep it short. 😉
My boyfriend, Nathanael
yes, he's my boyfriend and you can't have him, I'll cat-fight you for him
, aka T!nk at
This Is How It Feels
, can't participate in Just Dance Yer Bloggy Off because he doesn't have a Wii.
But, he loves me enough see, I told you he's my boyfriend, that he made a video of himself dancing to last week's song, Cotton Eye Joe.
Isn't he a doll? Go pay him a visit.
I wouldn't steer you wrong.
Don't forget that tomorrow's song is Bebe!
****
Brittany at Mommywood has an easy way to pick a pic to share: she gives you a number and you find that pic in your files! This week's number is: #25. So, I opened up one of my folders and found this pic.
Ah, Halloween pics! That little monkey is Cub(though yes, Monkey was a monkey, too, and so was Bear) and the Backyardigan is my darling niece, Belly.
Getting a little sad b/c we've spent the past 3 Halloweens together, we have our own little traditions…and we probably won't be together much for it now that we've moved.
Oh, Belly, I miss you.
*****
And finally, this one goes out to the one I love….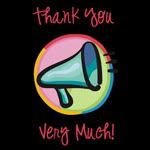 With Kmama at The Daily Dribbles
My dear, darling Hubs, whom I love with all my heart: I understand that you had to leave for work super-early yesterday. And it sucks that you had to get up at 5am. But, you did know that the boys were still sleeping, right? And that I was fast asleep? So, for turning the freaking tv on at that horrid hour…and just to CMT, so you can't even claim it was to check for a freak snowstorm in March in NC….for that noise that made it impossible for me to go back to sleep….thank you very much.