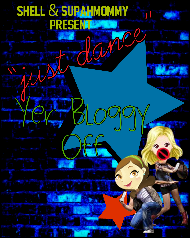 I still hear the Chipettes singing, accompanied by my boys whenever I think of this week's song: Hot n Cold.
Hmmm, ONE guess who won this week.
Though Kmama was really close, Messy Mommy once again takes the crown!
Congrats!
We are going to take this Friday off, as we wait for the Just Dance t-shirts to come in.
Plus, I am moving out of this house on Friday, so things will be a little hectic for me. And Supah will be off gallivanting across the country.
We'll let you know soon when the next dance-off is and what the song will be!