I love a good party. So, when I saw this all over the blogosphere, I simply had to join in!

Welcome, welcome, welcome!
I spill it all here on my blog- the "Things I Can't Say" outloud irl, they have to come out somehow: that's what this blog is for!
I love my husband and my three boys and am perfectly fine being the only princess in my house.
Besides, after having three kids in the span of less than 3.5 years(none of them multiples), I can finally see the light at the end of the diaper tunnel and I'm ready to move on to big kid challenges!
I sometimes feel like motherhood is like being thrown back in junior high and I use this word:
But, as much as I like to have fun and be silly and sarcastic, I also need to pour my heart out and hope you'll join in some Wednesday.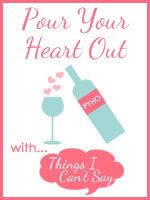 To balance out the serious, I have no shame and dance around like a fool for you…and of course invite you to dance along with me!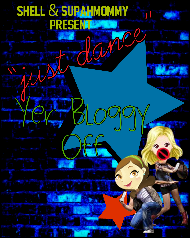 Thanks for stopping in!
I hope you'll stick around!
P.S. What prizes I'd like to win? All of them. 😉
Okay, okay, that's cheating: there are some fabulous prizes and I really would be happy with any of them that are appropriate for a family of 3 boys ages almost 2- 5. And bling for mama would be fabulous. A trip away sounds amazing, too: 1, 4, 6, 8, 15, 18, 19, 27, 32, 34, 37, 40, 47, 48, 55, 57, 61, 65, 69, 71, 72, 73, 74, 76, 83, 87, 94, 99, 106.