Blog Friend Feature: BFF on Fridays.
It's summer and I'd love to introduce you to some of my favorite bloggers.
So, every Friday during the summer, I'm going to feature a blogger that I adore. Just a short intro and then a guest post from them because it's an easy way for me to take Fridays off during the summer I know you'll love them as much as I do.
Their button will be displayed in my sidebar for the week, too.
Want to be a BFF? I have some ideas of blogs that I'd love to feature, but I have to admit that I'll probably choose most from people who actually comment on these posts. 😉
And because I can't help myself, I made a button for my BFFs, if they want to grab it.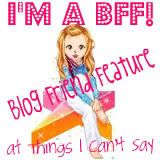 I hope that you enjoy this new summer feature!
*Shell reserves the right to continue BFF longer than just the summer, depending on how it goes, especially since there are way more bloggers she'd love to feature than there are weeks in the summer*
The very first Blog Friend Feature(BFF) is
Tammy from Tammy's Two Cents
whom I usually say is my big sis, because it feels that way. Um, even though we've never met IRL. She's such a sweetheart and I knew that I could ask her to step out and do this for me as the first BFF without her being worried about my trying something new over here. I just love this post from her. Especially because I would describe her as being such a happy person- it goes to show that we never know what sort of stresses someone is under and how all of us can go through rough times.
When Shell asked me to guest post today, I thought "sure, I can do that". Then I started thinking, "what should I post about"? What are her followers going to want to read about? Shell is fun, entertaining and sweet…I guess I am fun, entertaining and sweet (in my own kind of way). But this is Shell's blog! The very successful Shell…then I started feeling guilty. Yes, guilty…guilty that I am comparing myself to Shell. She likes me for me! No guilt needed.
Raise your hand if you have ever felt "Mommy Guilt"? How many of you experience it every day? I don't know if I experience it every day but I do feel it often and have felt it so many times in the past. I don't want to feel guilty but I do.
I have been a mom for almost 10 years now. My daughter is turning 10 at the end of this month and my son is 7-1/2. I think the first time I felt the "guilt" was when Emily cried for 5 hours straight! I had called our doctor and he decided he needed to see her at the ER after listening to her cries. We got her into her car seat and were getting ready to head out about 10 p.m. and she fell asleep, worn out! We carefully put her in her crib and she slept for several hours. Once I figured out the reason for this crying, I felt terrible! We had been at a family reunion earlier in the day and I had drank several pops (with caffeine) and I was nursing her! Such a bad combination and I felt guilty for making her so uncomfortable.
Guilt can come in many forms…guilt from doing something silly like drinking caffeine or guilt that goes deeper than that.
Last year I was slapped in the face with what I would call a big dose of "Mommy Guilt". In November of 2008 I had the flu. I had been summoned for jury duty and felt really sick. I also felt stressed trying to arrange childcare for our youngest. My group ended up being excused for the entire week which was such a blessing.
Thanksgiving came and went and I was hit with the flu again. My husband and kids were feeling under the weather on and off through the month too. I was having such a hard time just making it through the day. Finally in January, my husband came home and I had fixed soup for the umpteenth time for dinner. I was an emotional basket case. He finally said, "why don't you go and see the doctor". I was so sick of feeling bad that I called that night for an appointment. I could hardly schedule the appointment in between sobs. They were able to get me into the doctor the very next day.
As I am sitting in the waiting room I am trying to keep myself together. The nurse called me back and as soon as I walked through the doors I started crying. She took me back to a room and gave me a hug. She told me things would be okay. I shared with the doctor all of my symptoms. I did go in for a few tests but she explained that I was actually suffering from Depression and Anxiety.
I don't know what I expected to hear from her but those two words were not it! Normally I am the happy girl. You know, the one with the smile and laughing coming from her all the time. The one who would have to go to the principals office because she was disrupting the class giggling! How could I be depressed?
It has been over a year now that all this happened. Depression still creeps into my life every once in awhile but I have overcome most of it with a loving and supportive husband and family. The guilt I felt during this time was overwhelming. My husband went to work and then came home to all the extra chores and all I could do was lay on the couch and watch him having to do everything.
I still feel guilty for not liking the kids friends to sleepover or not contributing to our family financially. Should I go back work, is the house clean enough?…the list goes on and on. I wish I was one of those moms that could let the guilt roll right off my back but I am not. I guess I need to learn to live with it and learn not to dwell on it!
Please show Tammy some comment love here and go follow her if you don't already. I know you'll love her as much as I do.