I've known this week's Blog Friend Feature for less than a year…and yet, I feel like I've known her forever. I reach for my BB and message her when I need to vent or celebrate something. I've talked to her on the phone even though I hate talking on the phone. She's become a real friend.
You may already know her, as her blog is the home of Post-it Note Tuesdays. Meet Kristen of Only Parent Chronicles.
Hello to you all! I'm so happy to be the BFF at Things I Can't Say this week. I always have such a great time visiting all the featured blogs and was thrilled when Shell asked if I'd like to be featured today. I mean, obviously the answer was yes. Who wouldn't want to be Shell's BFF? Then it hit me. To be Shell's BFF, I would have to write a guest post! Yikes! After months of great posts from amazing writers all over Blognia, it was going to be my turn. Honestly, I felt truly inadequate. Fortunately, I have known Shell long enough to be "comfortable in my skin" around her.
It seems a popular question in Blognia is, "Why do you blog?" Every time I try to answer that question concisely, I get stumped. You see, when I started blogging, I was going through a period where I really couldn't believe events in my life were happening to me. Naturally, I thought being an only parent of an obnoxious boy and a special needs girl, I was guaranteed years of blog fodder. On top of that, I was single and dating. I was confident that alone would give me plenty of funny stories. Sadly, I quickly discovered my life was boring and far less entertaining difficult to translate into short vignettes. Partly because a lot what happens are my children's stories and not mine to share, partly because shortly after beginning Only Parent Chronicles, I got into a serious relationship, and partly because I really just don't write that well.
So why then do I blog? The short answer is Community. I know there is regular debate IRL as to whether blog friends are real. I can tell you without a doubt, they are. In the last year and a half, I have developed some of the deepest, richest, and truest friendships of my lifetime in the blogging community. Not only have I "met" people that I turn to when I need advice or an objective ear, I have also had the opportunity to meet other bloggers face to face and cultivate those relationships into real, tangible things. Through blogging, I have been able to develop friendships by choice, not circumstance. I have met women that I talk to every day. We have created our own support system of people we can reach out to for anything.
In the last year and a half, I have been through the birth of a child, the death of a sibling, divorce, childhood illness, special needs testing, an infertile friend carrying a baby to term, unemployment, reemployment, dissolution of friendships, and celebration of friendships. These experiences and the emotions that they came with were all real. They late night or early morning shout outs via text or email of friends in need of a shoulder to cry on or an ear to bend are all real. The bonds that we've forged? They are all real.
The next time someone asks you if blog friends are real, I challenge you to take these things into consideration. I know, without a doubt that the community I have built and the friendships I have made through blogging are 100% real. That, my friends, is why I blog.
How about you? Why do you blog? Have you made irreplaceable friendships through blogging? What keeps you coming back?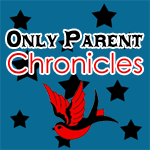 Please leave Kristen some comment love here and then go follow her blog if you don't already!