I have had the priviledge to meet this week's Blog Friend Feature in person. I met her through blogging and then made plans to meet her irl when we both attended Bloggy Boot Camp in Baltimore back in March. She gave me a fabulous blinky ring to wear and we were sippy cup girls together. She made me laugh with her hilarious observations and tweets. I loved getting to meet her.
Squeezing The Pulp Out Of Life—-Grasshoppa Style.
Today my punk teenager drove me to the nail salon because I am headed to a blog conference this weekend and she said my nails "lacked appeal."
I'd sure like to know who she thinks I think she knows who she thinks I know she thinks she is?
Okay, so I know she knows a lot but she doesn't need to know that I know that she knows a lot. And we need to keep it that way.
Rule #1. Never admit defeat to a teenager.
Never.
I repeat.
Never.
Unless you are trapped in a cold shower without a clean towel within 8 feet.
Or on the commode without a single square of toilet paper within 5 feet.
Those are the exceptions to the rule.
So, she drives me to the salon all the while giving me all her 4 cents about what color this and that and getting all up in my business like she knows me or something.
I say: Young lady, you are being utterly disrespectful, inconsiderate and unruly towards me. Now go to your room—-you're grounded.
Then I admired my nails, freshly painted with a color called "Linkin Park After Dark."
It reflects my inner most dark and mysterious old soul.
Not really. No color could possibly ever reflect such ambiguity.
And then she said: You mean after I drive you home from the salon? Because I have to work today."
Brat.
So on the way home, Aaron texts me a photo of baby dumplin'.
She's a whole other story that will have to wait for an entirely different blog post.

She had colored all over her beautiful baby forehead with an ink pen.
I showed the picture to Kayla and she said sarcastically—in such a manner that only a teenager can master: "You are such a good role model."
Which was totally uncalled for but I suppose was in reference to this here event that happened a few days ago—-
I got myself so worked up and giddy with excitement that the triplets were going back to school after a long weekend that I temporarily tattooed my forehead with the words: "I <insert heart> school."
And then I sang a song and put it on my blog. It turned out to be an awful remake of "The Sun'll Come Out Tomorrow".
All because I can't sing—- but I do.
Because I have a new motto:
I'm squeezing the pulp out of life—one fruitful day at a time.
To which my teenager promptly rolled her eyes, shook her head in such a manner as only a teenager can do and said point blank, right to my face, that I "was whacked."
Brat.
So while I was being chauffeured home from the salon today by the punk teenager, with those last words about me being "such a good role model" ringing in my ears, I turned to her and said: "Well, I am a good role model."
Overall, I think I am leaving a pretty nice legacy for my brood of triplets plus 2.
I turned to her and said:
"Listen here young lady, someday I will be loooooonnnnnng gone, and you and your 4 siblings will be sitting around the bonfire recalling all the ways my wacky behavior and shenanigans provided a foundation for strong moral character and selfless living for you and your family."
Okay, so maybe not all that.
Or any of that, really.
I mean…there will be some character building…that is for certain.
For what purpose, is anyone's best guess.
But I know for sure they will be sitting around the campfire, singing all the folk songs I taught them and saying things like:
Remember that time momma was getting her toenails painted and she was trying to sing show tunes, but the massage chair was vibrating so much that it sounded like she was gargling water—-under water?
Remember that time momma wrote all over her forehead with brown eyeliner and recorded herself singing on that blog thingy? (See above photo.)
And remember that time momma dressed up like a witch, and dad gave her a Halloween hickey with fake Billy Bob teeth?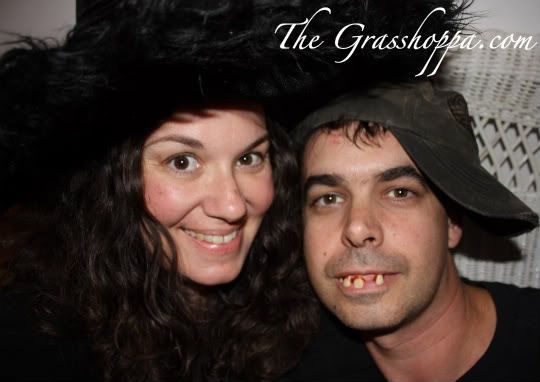 And remember that time momma made dad wear a light up Rudolph nose driving down the road on their way to do Christmas shopping?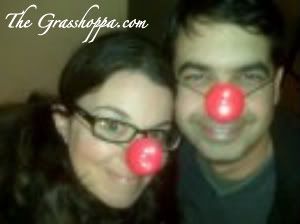 Sorry about the shabby pic. The cell phone had some issues.
And remember that time momma wore those leopard hooker shoes to Bloggy Boot Camp and every other blogger talked about her behind her back for 12 1/2 years?
And remember that one time when momma made dad wear a muscle apron for 9 hours straight and made us all call him Papa Fabio?
And remember that time that momma and dad made us all dress in matching striped pj's and Santa hats, then stood on their heads and burped the alphabet to make us laugh and giggle?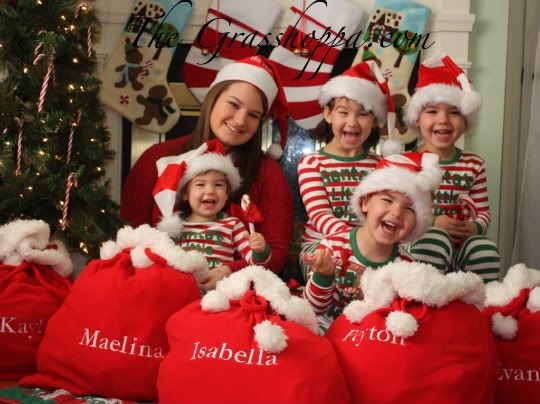 I guess the plain truth is that we are very serious about the business of sillyness in our home because frankly, life is just too short to grow up and stop laughing, smiling and enjoying the beach sand stuck inside your bathing suit and the peanut butter stuck to the roof of your mouth.
If there is one memorable legacy I want to leave behind for my children, it would be to embrace their life so fully and for them to squeeze the pulp out of life—one fruitful day at a time—Grasshoppa and Papa style.
~The Grasshoppa