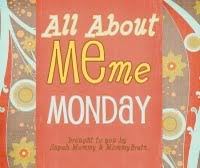 Supahmommy and MommyBrain came up with this great excuse for me to drool over hot guys and not feel all that guilty about it. All I'm doing is playing along with their MEme. 5 laps I'd rather sit in than Santa's.
What fun to get to think about this…outloud, since I guess I can't usually admit to this without offending Hubs.
Though, I don't think any of these are a secret to him, since I practically purr whenever I see any of these men on tv or in a movie.
My first goes way back to my crush on Pacey Witter when he was in Dawson's Creek.
But now, Joshua Jackson is all grown up on Fringe and HOT.


I'd so sit on his lap…here is where I was going to say as long as he hadn't just gotten done with some of the gross stuff that he does on the show…but really, I wouldn't even care.
Next up is Wentworth Miller: or really, Michael from Prison Break. I know nothing about any of these people, aside from adoring the characters they have played. Though, I did used to live right near where this guy went to high school and I used to dream about him showing up for a visit…
I was going to just use this second pic of him and describe exactly how I would sit on that…but well…I'm trying to keep this from turning into something that needs a "mature" rating. Plus, I love my Hubs…
Whew!!!! HOT. Vin Diesel. Arm. Abs. That voice. Need I say more?

And then from all those same movies-I really can't keep the names of the Fast and Furious movies straight, especially since 2 of them are the same thing, only with the "the"s removed. But, Tyrese and Vin are my reasons for not caring when Hubs wants to watch these movies for the millionth time. (since I'm going to be sitting in their laps, I figure it's okay for me to call them by their first names.)
And finally, there's Pasha, from a few seasons ago on So You Think You Can Dance. He was a Latin Ballroom guy and the way he could move those hips….I immediately conjured up this fantasy of him as my dance instructor and him showing me exactly what those hips could do.

Okay, okay, I do love Hubs…so I will quote one of the dumbest guys I've ever met in my life, but will pretend that he had words of wisdom and say "It doesn't matter where you get your appetite, as long as you come home for dinner."