Last week, I was remembering not-fondly about the time that there was a warrant out for my arrest.
Me.
Goody-two-shoes to the nth degree.
Okay, so maybe I wouldn't go that far.
I do like to drink, I tend to call people motherbitches, I'm impatient, snotty at times, and irritable.
But, when it comes to things that you could actually get arrested for….
Nope, not me. No freaking way. (Except for maybe that one skinny dipping incident, but I didn't get busted for that one and really, how bad is that? Only I would think of that as something horrible.)
But, yes, I did have a warrant out for my arrest at one point.
What did I do? How did that happen?
Well, it actually answers Supahmommy and MommyBrain's All about MEme Monday question: Tell us about a time you got pulled over by the po-lice.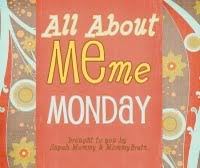 A Sunday in October 2007.
I was driving us to church. I can't remember why on earth I was driving, since Hubs was in the car. But, anyhangover….
I see the lights start flashing behind me and my heart jumps into a panic. I was NOT speeding. I DO NOT SPEED.
And on that particular stretch of road, by not speeding, I mean I don't even do 5 over(that doesn't count as speeding elsewhere, right?), because there is nothing else for the police to do right there than to pull people over. There's NOTHING there. Which is probably why most people fly down that road who don't realize that the police hang out there all the time. No joke, I once saw police cars in 4 different hiding spots along that road within less than 2 miles of each other.
I won't tell you the whole story about all the waiting and the officer's comments and all that crap because this post really doesn't need to be a whole book.
But, I had been pulled over because my registration had expired.
I had no idea. I knew my sticker was expired, but Hubs had told me two months before that he was going to take care of getting it renewed on time and that he'd get my sticker to me later, but that it was fine.
I thought he'd already done it and just hadn't given me the sticker.
Um, no.
Hubs takes my ticket and says he'll take care of it.
The next month, I get a notice in the mail, saying that I still need to pay for this ticket or a warrant for my arrest will be issued.
Again, I give it to Hubs, he says he'll take care of it.
Then, right before Christmas, I receive a warrant for my arrest in the mail.
Because Hubs still hadn't paid my freaking ticket.
I call him, in tears, rambling on and on about how he should forget about buying me anything for Christmas, I just don't want to get arrested and what if they came for me and no one else was here with the kids and they had to take them away, and I have an arrest on my record and what if I ever want to go back to teaching and….
Okay, I didn't handle it very well, at all.
I can't help it, it freaked me out.
So, there's my answer to Supah and Mommybrain's question and how I almost got arrested. I would just like to state for the record, that I've never gotten a ticket for anything else- not even pulled over for speeding.