Another great picture contest with ToothSoap- this time, one that I'm entering!
I was looking through pics of Hubs with our firstborn when he was a baby. And, in most of those pics, Hubs looks like he is afraid he is going to drop Monkey. There's a sweet awkwardness to the way he's holding the baby…and he's always looking at the camera.
But, when the second baby came along- Hubs was confident and adoring. You can tell in this pic, taken in the hospital with Bear, that Hubs had changed as a father. He was comfortable with this "Dad stuff" now.
You know, where he got to the point where he would do anything for his kids, even if it meant standing in line on a hot July day so that his oldest son could get a pic taken with June from Little Einsteins.
Or floating down a lazy river with his youngest son, when it would be so much more relaxing on his own.
All those little things that he does to show how much he loves our boys….makes me love him even more.
Shouldn't a father like that win this contest????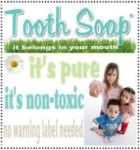 You can enter on these blogs….yeah, I'm being nice and telling you this, even though I want to win.
Btw, if you are here b/c it's Friday and you wanted to see who the newest BFF is- you'll have to wait until the morning! 🙂